Submitted by

rgordon

on Fri, 04/27/2018 - 09:29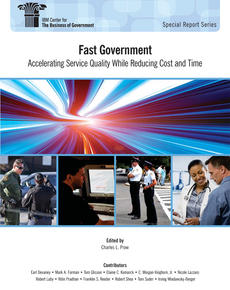 Chuck Prow and Robert Shea
United States
Charles Prow is the IBM general manager responsible for the Global Business Services' (GBS) Public Sector business, which includes federal government, state and local government, and healthcare.  IBM provides a broad portfolio of services to the Public Sector to include:  transformational and strategic consulting; business and operational improvement of supply chain, financial systems, call centers, analytic and optimization solutions and human capital needs; systems integration, hosting, application management, and engineering; infrastructure and security; and a wide range of competitive sourcing solutions. 
With more than twenty five years of experience, Mr. Prow has assisted large, complex organizations in the Private and Public Sectors transform their operations through operational improvement and technology implementation.  Specifically he has assisted Federal Defense and Civilian departments, Fortune 500 and mid-sized industrial, consumer goods, financial service and healthcare companies.   Prior to his current role Mr. Prow held positions as: vice president responsible for IBM's Public Sector Business Development and Sales function; vice president of IBM's Public Sector Transformational Outsourcing business; Partner-in-charge of consulting operations for the PwC Public Sector consulting business; and various business and program management roles.
Prior to joining IBM Mr. Prow spent sixteen years in a Public Accounting and Consulting Firms and four in industry.   Mr. Prow received a Bachelors of Science in Management and Data Processing from Northwest Missouri State University.  Additionally, throughout his career, Mr. Prow has completed more than 750 hours of continuing education in the areas of strategic and financial management; large scale transformation and change management; operational improvement methods and techniques; and technology transformation, methods and trends. 
Mr. Prow has been involved in a number of technology and industry organizations throughout his career, most recently he served as Chairman, Open Applications Group, 2000 – 2002 and was heavily involved Supply Chain Council.  He has contributed to white papers and a variety of industry thought leadership products and presentations.
Robert Shea is a Principal in the Global Public Sector practice of Grant Thornton LLP. He formerly served as Associate Director for Administration and Government Performance, Office of Management and Budget; and Counsel, Senate Committee on Government Affairs.