Submitted by

rgordon

on Tue, 04/17/2018 - 10:34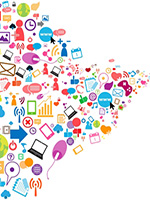 Wednesday, January 24, 2018
Technology is constantly changing as new tools are developed and old tools are modified or repurposed, and these commercial innovations are having a growing impact on how we govern.
Citizen expectations of government evolve as they utilize these new tools with the private sector and in their daily lives, requiring government organizations to not only understand these new tools, but to know when and how best to implement them to further their mission. As we begin a new year, let's explore four technology trends that are currently impacting citizen engagement and digital communications including live video, immersive tools, bots, and wearables.
Trend 1: Live video
Live video is a teenager in Internet years, but with Facebook launching their live video product in 2016, there is now an upswing in its usage and popularity. Facebook live videos are watched three times longer than regular videos. With live video embedded into social media platforms, it's no longer one-sided consumption, but an opportunity for a two-way conversation through comments and engagements. Aside from Facebook, other platforms include, YouTube Live, Twitter Live (previously known as Periscope), as well as stand alone platforms like Livestream, and time-sensitive videos for Instagram and Snapchat.
Government organizations can use live video for a behind the scenes look at events or in the field, interviews with agency leaders, or a speaker series on a relevant topic. Several agencies already use live video. A few have their own agency-specific channels like HHS, FCC, and State Department, among others. The National Center for Complementary and Integrative Health at NIH discovered the benefit of leveraging a social media platform for live broadcasting. They hosted a free lecture series on integrative medicine that they modified to stream through Facebook along with a post-lecture Q&A. They found that the lectures had six times more views on Facebook Live than through their own streaming service. The benefit of using these social media platforms is their reach – there are two billion visitors to Facebook every month as compared to the same number of visitors to all government websites every three months.
Trend 2: Immersive technology
Immersive technology, such as 360 videos or virtual and augmented reality, uses digital simulations to replace or enhance the physical world. Sometimes used interchangeably, virtual and augmented reality are not the same thing. Virtual reality (VR) involves being totally immersed in the computer generated simulation, typically using a headset. Augmented reality (AR), on the other hand, involves blending computer generated components with the real world. Though it is expected that there will be 171 million active virtual reality users in 2018, many believe that augmented reality will see the greatest growth and applicability.
It's easier to imagine how virtual simulators can be used to train astronauts for example, but how can immersive technology be used for more everyday citizen engagement? It can be effective for improving citizen preparedness; The Singapore Civil Defense Force has been using VR to prepare their citizens for natural disasters. It can also be useful for building awareness of a city or work. Australia has created 360 videos to attract tourists to areas across the country. This technology can also be useful for recruitment. As an example, the British Army found that by using virtual reality to simulate common training scenarios, it led to a 66% jump in recruit applications.
Trend 3: Chatbots, virtual assistants, and messaging apps
Bots are programs that simulate conversation, can answer questions, or help with various tasks. AI components, particularly, Natural Language Processing and machine learning are what make them useful. Chatbots are everywhere and in every industry. Gartner estimates that by 2020 the average person will have more conversations with bots than with their spouse. Messenger apps, such as Whatsapp, which have been steadily growing and are now the most downloaded type of app, provide a means for delivering bots to the billions of people who are using those apps every month.
Bots can be helpful in delivering services, providing expertise on a topic, or responding to customer service questions. Arkansas launched a personal government assistant for its citizens. Gov2Go, as it is named, can keep track of deadlines, send reminders, and help with related questions. There are currently more than 300,000 users of Gov2GO.
Trend 4: Wearables
Wearables are network connected devices with sensors worn anywhere on the body. We're all familiar with wearable watches like Fitbit. Aside from watches, there is eyewear, hearables, and even programmable clothing. This market is early in its maturity, despite over 100 million devices being shipped in 2016, many go unworn or scarcely used, but it will continue to mature.
In the future, wearables can be used to provide notifications or collect sensor data. It also has the potential to add to an end to end user experience. Disney Parks currently use their MagicBands to create a more seamless experience in their parks. It's possible this same technology could be leveraged for our national parks in order to track rangers and visitors in case of emergency, send notifications about weather or sites, and even integrate payment for food, park entrance, and souvenirs.
Citizen engagement is not simply about the latest technology, however. It's about meeting the needs of the user where and how they wish those needs to be met. The end user has to be at the forefront of all digital design and execution. To do so, this includes:
Partnerships: Creating a single end to end citizen experience may require coordination across an entire agency and perhaps even across multiple agencies. It may require bringing in private companies or collaborating directly with citizens.
Data: Data can help inform design, understand results, make decisions, and create a more effective service.
Personalization: Citizens don't want a generic answer or experience; they want their specific needs to be met. Personalization requires more mature technology, deeper analytics and faster machine learning. One way to start this effort, though, is by developing a common set of personas through design thinking exercises.
Security and accessibility: Digital technology can easily be hacked, and protections need to be in place for encrypting data. However, that needs to be balanced with creating tools that are easy for everyone to use.
Ethics: Technology is not immune to bias simply because it is not human. Government has a responsibility to lead the way on both ethical policy and implementation.
These components must be embedded into the process from the very beginning, into the design, the programming, and the testing. If there is one takeaway, it's how important it is to be thoughtful upfront and not leave things to post production.
While there is a lot of interesting technology, technology alone is not the answer to citizen engagement. That is not to say organizations shouldn't be bold, try new things, and continue progressing and changing with market needs, but the first step is to understand the problem and the best solution for it. That may be one of these technologies, but it may not.
Image courtesy of photoraidz at FreeDigitalPhotos.net