Submitted by

rthomas

on Wed, 12/20/2017 - 14:41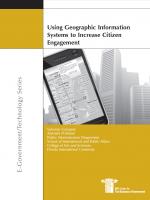 Learn about theory and practice of Geographic Information Systems (GIS) to increase citizen participation. Topics: GIS data transparency, tapping citizen-volunteered geographic information, enhancing citizen participation in decision making with GIS; curr
On the Wednesday of Digital Capital Week (DCWeek), I will be moderating a panel that will discuss how to use geographic information systems (GIS) to enhance citizen participation.  DCWeek's June 16 program is devoted to Gov 2.0 and Org 2.0, and this particular panel will examine many topics central to Gov 2.0 conversations: 
Ensuring data transparency;
Tapping citizen-volunteered geographic information;and 
Soliciting citizen participation in decision making.
The panel will feature Dr. Sukumar Ganapati, Assistant Professor Florida International University, and author of "Using Geographic Information Systems to Increase Citizen Engagement" and Barney Krucoff, GIS Manager District of Columbia's Office of The Chief Technology Officer.  
You can register to attend the panel, or if you have questions you'd like answered, email them to me.
Also: follow DCWeek on Twitter: http://twitter.com/DCWeek