Submitted by

JKamensky

on Tue, 05/28/2019 - 14:21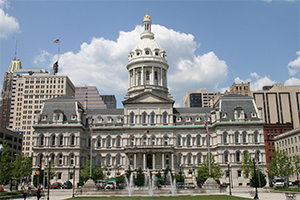 Baltimore's long been a pioneer in performance management. How has it evolved in the two decades since Martin O'Malley put the award-winning CitiStat in place?
Last year, I met Kendra Parlock, the head of Baltimore's performance and innovation office, at a periodic informal meeting of local government performance officers in the mid-Atlantic region.  I was intrigued by her upbeat update to her fellow local government peers.  After all, in the Spring of 2017, Governing magazine raised a warning flag, questioning whether the nearly two decade-old award-winning CitiStat management system in Baltimore, installed by Martin O'Malley, was dying of neglect under the several mayors that followed him.
As one of the group's steering committee members, she hosted the its most recent meeting at a nonprofit's conference space in the recently refurbished, Millennial-friendly Montgomery Ward warehouse that has been converted into an innovation place. There, she and her city colleagues narrated a remarkable story of the city's refresh of its vaunted performance approach.
It turns out that new city leadership had taken over in Spring 2017 and began to quietly reinvigorate Baltimore's award-winning management approach over the next two years. Mayor Catherine Pugh – who recently resigned as a result of a personal scandal -- began shifting from a focus on meeting performance targets to being more collaborative and issue-focused in solving problems.  This reflected a broader national trend in how cities are managing their operational performance. But more importantly, it is getting positive results.
So, while Mayor Pugh may have left office under a cloud, she did leave behind a legacy of improvements for the city. The new mayor, Jack Young, has publicly embraced Pugh's strategic priorities for the city and is committed to continuing the refresh of the city's performance system.
Background. Baltimore has long faced tough governing challenges.  Its population of 620,000 has been in a steady decline for nearly 70 years. It peaked in the early 1950s at nearly 1 million citizens.  Today, there are nearly 17,000 vacant homes, contributing to its reputation for a high homicide rate. Mayor Pugh set forth four strategic priorities and organized the city's resources around meeting them.  These were:
Improving public safety by launching a violence reduction initiative and bolstering a chronically understaff police force.
Improving the quality of life for citizens by keeping them healthy and revitalizing neighborhoods.
Engaging the city's youth and ensuring they received a quality education
Moving Baltimore forward by ensuring the accountability and transparency of the performance of individual city agencies.
The Turnaround Effort. The director of the Mayor's Office of Sustainable Solutions – which is leading the turnaround effort for the city – is Kendra Parlock, who serves as the connecting thread among different mayoral initiatives.  Her office's mantra is to make Baltimore more resilient "by using data, innovation and technology to foster cross-agency collaboration and to develop solutions."
This office helps define the mayor's strategic priorities in terms of key performance indicators of progress, the strategies that one or more agencies would undertake to mix and match services to meet the priorities, and the written performance agreements to work together towards those goals.
These agreements, of course, are toothless without resources, so Parlock works closely with the city's Bureau of the Budget & Management Research in crafting the performance agreements with the agencies.
The city has re-branded its CitiStat progress review process as "CitiStatSMART" to emphasize the importance of data in these reviews and setting smart performance goals. There are two types of reviews.  One focuses on major, cross-cutting strategic issues, such as violence reduction and the recruitment of police officers. The other focuses on agency-level operational issues, which are dubbed "mini-stats."  Twenty agencies are involved in major stat meetings; five are involved in mini-stats.  Parlock says "we have reviewed and developed about 700 performance measures across more than 21 agencies" but that not all of them roll up to CitiStatSMART meetings.
Much like the meetings under O'Malley, the meetings focus on identifying problems, diagnosing causes, and developing strategies to resolve them.  A new effort under the Mayor's Office is providing help to agencies to build the capacity to conduct frontline problem solving.  For example, Parlock is an instructor in the city's  "EDGE" Academy (Educating Employees to Achieve Operational Excellence)  that trains frontline managers on the use of analytics tools and approaches based on principles such as Lean Six Sigma.  Her team also builds analytic dashboards to help managers track progress.
So how does all work together to get results? Following are three examples of how the city has gotten results that matter:
Case 1:  The City's Violence Reduction Initiative. The highest profile initiative is the city's effort to reduce gun violence. Parlock's Office of Sustainable Solutions worked with the police department to identify the eight most violence-prone locations in the city.  In the Fall of 2017, it launched an initiative to reduce violence in these areas by at least 15 percent over the subsequent year.
The initiative focused on four strategies involving two dozen different city and state agencies. In many cases, it was the first time these organizations worked together – social services, housing, fire inspections, licensing permits, etc.   They focused on the precursors to violent crime such as problematic businesses, break-ins, and street light outages.  They applied the "broken windows" theory popularized by New York City in the 1990s.
The organizations worked closely together, with daily briefings, weekly walks, monthly working group meetings. For example, following up aggressively on 311 non-emergency services requests resulted in a 20 percent increase in responses to lighting outages and a 32 percent increase in other environmental services.
This degree of collective focus wasn't easy.  There were tensions between individual vs. collective performance management; between an emphasis on rapid deployment vs. long term strategic problem solving; and reconciling differences between agency data systems.
Its results so far?  According to Parlock, 15 months into the initiative, homicides and shooting were reduced between 23-34 percent in the eight locations (the target was 15 percent), which translated to five fewer victims per month.
Case 2:  The City's RecruitStat Initiative. Interestingly, one of the underlying contributing causes to the city's crime problem is that its police force is 500 officers below what it was in 2012.  As a consequence, recruiting and hiring new police officers rose to the top of the city's priority initiatives. The current goal is to hire 25 new police officers per month, or 300 new officers in a year, to fill the growing gap caused by retirements and departures from the current police force.
Bloomberg Philanthropies supports this initiative by funding an Innovation Team of four problem solvers trained in analytic techniques. Under the direction of Dan Hymowitz, the team worked with the personnel and police departments to develop a strategy. The team is working to meet the requirements of a court consent decree that the city police department ensure new officers will be community oriented.
The Innovation Team developed its plan of attack by using human-centered design principles, engaging both residents and current police officers to identify what the next generation of police officers should be. They found the existing hiring system was not hiring for traits desired by city residents or existing police officers. The steps put in place based on the team's findings are making a difference:
The city put applications for open police positions on-line.This increased applications four-fold since June 2018.
It began using scenario-based testing instead of the city's traditional civil service exam, and included the use of video-based real life scenarios as part of the test.
It focused on local hires (the current force is only 20 percent residents).One approach to attract locals was the use of "ride alongs" which has resulted in hundreds of new prospects. It also launched a geo-targeted ad campaign.
A local design school developed a pilot game to be used at job fairs to attract attention.
The team mapped out the process flow from recruitment to the completion of cadet training and developed a "RecruitStat" tool that provided the granularity needed to identify specific areas they needed to fix in the overall process.
The results so far?  In the first quarter of 2019, the city hired 8 more police than were lost to attrition; 43 new hires in the February-March timeframe.
Case 3:  The Fire Department's Use of Predictive Analytics. Karl Zimmerman, assistant chief of community risk reduction, lamented – tongue in cheek -- "I never thought I'd be chasing numbers for a living." – after more than 30 years in the fire department.  He knew the key issue was finding a way to better prioritize the fire department's preventative work.  They already make 24,000 visits a year for smoke alarms and fire inspections, but knowing where to target the visits was like finding a needle in a haystack – there are fires in only 2 out of 1,000 residences each year.
Zimmerman said he became sold on the use of predictive analytics two years ago after seeing a demo of the Atlanta fire department's Firebird project (done jointly with Georgia Tech). That project started with commercial properties then moved t residential properties.  Their predictive tool was accurate 71 percent of the time in identified potential fire risks.  The project developed its predictive power by integrating a number of different already-existing city-owned data bases developed by different city departments: on fire incidents, fire permits, liquor licenses, socio-economic and demographic data, etc. For example, they targeted homes where residents lived longer than 30 years, presuming these owners had accumulated more stuff than new owners that could be a fire hazard.
Like Atlanta, the Baltimore fire department is building predictive models with existing city data sets from 311 service calls, liquor permits, prior fires, housing, water department, etc. to identify risk patterns. So far, the city's fire department is linking up different datasets and cleaning up data with the goal of launching an initiative this Fall to identify buildings in the city with the greatest fire risk in order to prioritize resource deployment for code enforcement, education and smoke alarm installation.
Where to Next?  The new mayor, Jack Young, is settling into his new role and a transition is underway with some reorganization of his immediate office.  However, city staff say he is committed to strengthening CitiStat, agency accountability, and performance management. They say he regularly attends the progress meetings on the Violence Reduction Initiative as well as continuing the on-the-ground community walks initiated by his predecessor.
The City of Baltimore has a long history of pioneering data-driven performance improvement, even in the midst of political and social challenges. Its resilience provides hope for its citizens and public service as it moves forward as a community.
Graphic Credit: Courtesy of Wikimedia Commons