Submitted by

rgordon

on Thu, 06/14/2018 - 09:34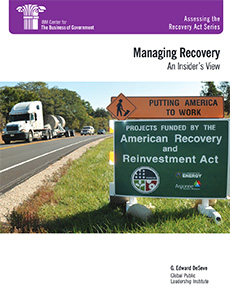 Too many people have lost confidence in government's ability to operate large programs efficiently or do the "big thing" anymore. Yet governments around the world continue to provide critical services that meet a broad cross-section of citizen needs.
What would it take for government to regain the public's trust in its ability to get the job done well and solve problems? A strong program would need to:  
Hit every implementation deadline on time
Create jobs month after month -  millions of jobs every year
Raise the country's GDP
Be virtually free of any of the fraud, waste, and abuse that people often associate with government – even an unreasonably low number relative to private sector standards
A program like this did exist: the 2009 American Recovery and Reinvestment Act (ARRA) -- often called the "Stimulus" -- was a $787 billion program that accomplished all of these usually unimaginable goals.
The IBM Center wrote a report on lessons learned from the Recovery, authored by the Director of the effort, Ed DeSeve. I had the privilege of serving as Ed's deputy, and in this role oversaw the implementation of ARRA. At a time when the national conversation often turns to what the government does not do well, I continue to hear from former and current mayors about how much the Recovery Act got right. Former Clinton Transportation Secretary Rodney Slater said it best: the Recovery Act showed people that government can do things well.
Having travelled around the country since the Recovery Act's implementation, I've seen the impact of its investments and talked to the people who were affected, including public employees filled with pride over how they carried out their work effectively and how much their efforts accomplished.
The nation will always need the government to do big things, especially during times of crisis. The Recovery Act was passed and implemented during the most dire financial crisis since the Great Depression. The Recovery offered several lessons that can be applied to help build a successful strategy for the next large investment the government makes - whether it's $290B for cleanup after Hurricanes Harvey, Irma, and Maria or $1Trillion in infrastructure spending to fix aging roads, bridges, and highways:
Communication Matters: Every day, government hits the target and misses the point. It does amazing things nationwide, yet doesn't highlight those victories for people where they work and live. For this reason, the next big government program must have a simple message about its activity. The program's administrators must be diligent in spreading the program's message and telling the story of its successes.
Implementation Matters: Recovery hit every deadline because its leadership didn't worry about command and control. Instead, the Recovery Act relied on a broad-based "platform" approach that asked team members to assess every situation for red flags and barriers, and then empowered everyone to break them down. These innovative, hard-charging team members served as "outcome brokers", and they existed inside and outside of government. Outcome brokers sat in each Cabinet-level department, U.S. state, most big cities and even civilian associations. These outcome brokers shattered bureaucracy because they were clear about where they fit into the bigger picture.
Transparency Matters: Vice President Joe Biden tasked the team with responding to every question from the public within 24 hours. This mandate helped instill a sense of urgency and reinforced the value of citizen-driven transparency. This resulted in a group of fast-moving, bureaucracy-crushing government employees whose work was constantly under the microscope and thoroughly questioned producing low fraud, waste, or abuse. When industry norms are seven percent, the Recovery Act numbers show it being less than two percent. The takeaway is simple: to make the next big government program's legacy of impact endure, public accountability must be built into the fabric of its culture.
Leadership Matters: This program had a high stakes oversight built into its foundation. Vice President Biden held consistent meetings with the President's Cabinet, governors, mayors, and their teams from across the country. These meetings established an operational cadence and provided ample opportunity for attendees to voice their concerns about any portion of program implementation or timeline. The Vice President conducted this train, and his engagement moved the entire government to do the right thing, in the right way.
These lessons do not apply only to government. A leader of any team, regardless of sector or mission or size, can adopt these principles to create movements that matter and whose outcomes last. Whether cleaning up after successive natural disasters, starting a new business, or carrying out ongoing tasks at work, it is important to recognize that prioritizing rapid implementation, 360-degree transparency, and driven leadership is paramount.
Government and industry have the opportunity today to bring these lessons forward in delivering programs effectively- restoring the public's trust that institutions can solve big programs, and making the nation better off as a result.
*************************************************************************************************************
Blog Author:  Frank DiGiammarino
Frank DiGiammarino served first as the White House Deputy and then as the Director of the Recovery Implementation Office, where he was responsible for coordinating a complex and diverse network of federal, state and local governments in disbursing $787 billion after the Great Recession. Since leaving the White House, Frank became an early member of the Amazon Web Services (AWS) Worldwide Public Sector Leadership Team, and in 2012 built and implemented the strategy to open AWS business units in the Asia Pacific, Canada, Europe and Latin America. After successfully leading global expansion, Frank then led U.S. State and Local Government for AWS. Currently, he is a Senior Fellow at the Beeck Center for Social Impact and Innovation at Georgetown University. Frank has a unique perspective that comes from a career working at leading systems integrators, management consulting firms, the White House, Amazon, think tanks, and as a co-founder and advisor of a private venture capital company. 
Hersh Fernandes contributed to this blog. 
Hersh Fernandes helps cities, counties, and states create and implement service delivery models that streamline their residents' access to home repair, health, and energy efficiency programs. Hersh also developed MyCommunity Center, a mobile app (available now for iPhone and Android) that makes it easy for individuals and families to get access to the public sector assistance they need (think: Uber for government and nonprofit services). Hersh is currently the Senior Technical Assistance Specialist at the Green & Healthy Homes Initiative, and previously worked at Amazon Web Services and in the Obama White House. Hersh attended Texas A&M University and was a member of the A&M Corps of Cadets.