Submitted by

sfreidus

on Fri, 01/05/2018 - 14:07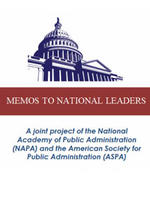 Tuesday, November 20, 2012
resident Obama said in his first post-election press conference that he was going to ask Governor Romney's advice on government reform. There has been a lot of advice developed in recent months! Here are some potential resources for them to draw upon.
If President Obama meets with Governor Romney to discuss ways to reform the operations of the federal government, here are some resources they have to draw upon. A number of think tanks have busily been preparing a series of white papers to spark the imaginations of those developing a reform agenda. These are not to be confused with agendas for new policies (such as climate change or immigration reform) or budget decisions, such as the pending fiscal debates.
This post, and several subsequent once, will provide a series of links to various papers or websites that have been doing some thoughtful thinking.  The first to be highlighted is a joint project by the National Academy of Public Administration and the American Society for Public Administration.  Their project, called Memos to National Leaders, is organized as a set of 28 short memos, around the following nine topics:
1.  Strengthening the Federal Budget Process.  Four memos offer a set of recommended actions to repair and remake the federal budget process. These include expanding the budget's time horizon, acting more strategically, and streamlining budget decisions to better fix responsibility for budget outcomes.
2.  Rationalizing the Inter-Governmental System.  This memo calls for a joint federal, state and local reassessment of the nation's tax policies with a focus upon the introduction of a shared consumption tax and the need for the establishment of an institutional mechanism to facilitate intergovernmental collaboration.
3.  Reorganization of Government.  This memo makes several recommendations regarding the structural and virtual reorganization of the federal government, including setting national goals, creating a reorganization commission, and rethinking Congress's own organization.
4.  Administrative Leadership in an Age of Intense Political Conflict.  Four memos offer recommendations regarding the recruitment of political appointees, reducing the number of political positions, reducing the time political positions are vacant, and improving the interaction between appointees and career executives.
5.  Managing Large-Scale Presidential Initiatives.  Three memos that provide insights and recommendations for managing three types of large-scale initiatives – those that are urgent and unavoidable, those that are important but not urgent and are initiated by the president, and those that involve Big Science.
6.  Managing Public-Private Partnerships. This memo recommends creation of Public Benefit Corporations; a Council for Fiscal Sustainability; a Risk Management, Identification, Assessment, and Mitigation Board; and an infrastructure banking system as ways to build a thriving economy.
7.  Creating a Performance-Driven Federal Government.  Three memos outline potential next steps for implementing the performance framework envisioned by new statutory requirements, ways for engaging stakeholders in setting priorities, and promising management practices for agencies as they create a performance culture.
8.  Strengthening the Federal Workforce.  Five memos outline proposals to improve pay comparability; streamline the recruitment and selection process; improve training, development, and labor relations; and the role of the Office of Personnel Management.
9.  Information and Transparency.  Six memos outline proposals to implement an enhanced digital agenda, foster citizen engagement, improve technology project management, increase transparency, improve information security, and reorganize the federal Office of the Chief Information Officer.
Future blog posts will cover initiatives or studies by:
The Government Accountability Office
The American Council for Technology and Industry Advisory Council (ACT-IAC)
The Project on Forward Engagement at George Washington University
The IBM Center for The Business of Government