Submitted by

TFryer

on Mon, 01/22/2018 - 11:04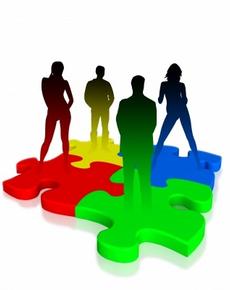 A manager might need temporary talent on a project and doesn't have it on his/her team. Energetic employees in other parts of the agency may have those skills and would like to share them as a way of broadening his/her professional experience. How can the
GovConnect is an initiative sponsored by the Office of Personnel Management that reflects broader trends in the workplace toward the use of project-based work.  It allows federal employees to share knowledge, collaborate, and apply their skills to address challenges that may be beyond their traditional job classification or organizational or geographic location.  Announced a year ago, it is currently being piloted within several agencies and is poised to be spread across the government in coming months.
The Back Story.  When the Obama Administration began developing its second-term management agenda in mid-2013, it reached out to agencies, asking for ideas.  The Environmental Protection Agency (EPA) and the Office of Personnel Management (OPM) suggested creating the equivalent of "TaskRabbit" for sharing skills across their agencies or departments.  At the time, EPA had a pilot underway called Skills Marketplace, and when they suggested this, several other agencies jumped in saying they, too, were piloting or considering similar approaches. OPM offered to take the lead jointly with EPA.  It announced a governmentwide initiative in March 2014, inviting agencies to propose pilots to test the concept.
In a memo to agencies in April 2014, Katherine Archuleta, OPM's Director, said: "The goal of GovConnect is to create a culture of excellence based on collaboration and teamwork that responds to mission demands without being unnecessarily limited by organizational silos."
In doing this, it suggested pilots might adopt one of three different "workforce agility models":
Model 1: GovProject.  This model would be constituted of manager-initiated micro projects, where employees apply to participate part-time (e.g., up to 20 percent time) on projects posted by managers in their agency or in another agency.
Model 2:GovStart.This model would involve employee-initiated micro-projects and self-organized professional networks where employees identify a need, identify the collaborations needed, and assemble part-time teams.  This grassroots approach contrasts with the management-driven approach.
Model 3:GovCloud.  This model would pilot an approach where employees are hired into an agency (or governmentwide) but not into a specific job.  They would be tasked out to agencies on one or more specific projects on an as-needed basis. The cross-agency US Digital Service is an example of this model.
In its announcement, OPM offered to "provide both an overarching program and technological capability that encourages and enables, for example, rapid assembly of skills-based teams and deployment of talent within and across agencies."
It said that successful pilots would need to have senior level champions with sustained support who would play key roles in "securing buy-in from key stakeholders such as unions and front-line supervisors at agency headquarters and regional offices."
Launch of the Pilots.  OPM invited agencies to participate in March 2014.  It asked that they designate executive champions and create pilot project design teams with the objective of testing various hypotheses, such as whether employees would be willing to participate in activities that were outside their current jobs that they would be passionate about or would want to develop other professional experiences, and to test whether managers would be willing to support their staff's participation in such activities.
OPM created a GovConnect Design Team to help agencies and is co-leading this effort with EPA, which had been an early pioneer of the concept. The proposal sparked imaginations across the government and a number of agencies and several regional Federal Executive Boards stepped up with ongoing or proposed new initiatives, including:
Environmental Protection Agency's Skills Marketplace
HUD's Rotational Assignment Program and Innovation Time pilot
Social Security Administration's
Many other agencies are undertaking similar experiments. The Departments of Commerce, Transportation, State, Labor and Energy are developing new models or exploring options for their own pilots.  The Los Angeles and San Francisco Federal Executive Boards have also offered to participate.  The General Services Administration has developed an interagency program Open Opportunities and launched a new software platform with 18F. So far, 8 different agencies have posted tasks on the platform.
In the end, OPM hopes to identify models suitable for governmentwide adoption.
Examples of What Some Agencies Are Doing.  Currently, GovConnect is in the design and pilot phase.  According to Melissa Kline-Lee, GovConnect's program manager at OPM: "Several agencies are in the process of designing and launching single-agency pilots in fiscal year 2015 to test one of three GovConnect workforce agility models."  Following are some examples:
Environmental Protection Agency.  EPA launched its Skills Marketplace initiative several years ago, before the OPM GovConnect initiative, as an effort to better engage employees.  It wanted to response to employee survey comments such as "it's so hard to get experience in other parts of EPA." The project's executive sponsors were inspired by the commercial company 3M's initiative to allow staff to work a certain percentage of their time on their own projects.
The EPA executive sponsors of this initiative knew the 3M approach might be too difficult to implement in a public sector environment, but they did think that allowing employees to work up to 20 percent of their time on a mini-project elsewhere in the organization might be more acceptable.  They started working on this in 2011 and found they had to address a variety of hurdles, including personnel regulations, union acceptance, legal issues, and acceptance by managers (who feared they might be penalized for allowing their staff to work elsewhere).
According to EPA deputy chief of staff John Reeder, the agency launched a set of pilots between May and December 2013 in selected offices within EPA and found the projects and employee responses to be worthwhile, so they expanded the program agency-wide in August 2014.  To start the process, they created a project portal where managers could post potential mini-projects.  The managers had to be able to describe the project, the skills needed, how much time would be expected, and how long the project would last.  The work had to be able to be done virtually, with no travel costs.
The managers of the Skills Marketplace initiative waited until they had enough projects in hand before launching the portal - they didn't want to stand up an empty portal!  Individuals who are interested in participating can sign up for an automatic notification whenever a new project is posted on the portal.
According to program manager Noha Gaber, more than 300 projects have been posted to date, with 450 applicants.   Projects have ranged from those requiring technical skills, to communications/social media skills, to economic, policy and grant skills.  For example, one person working on pesticides policy had GIS skills and applied for a project in the IT office to map key facilities around the nation that were listed in the toxic release inventory.  The project is currently up for an EPA-wide award.  In addition, the staffer not only got experience in another office but also brought back new skills and experience to his home office.
EPA is currently helping other agencies leverage their pioneering experiences in dealing with the change management issues involved, from setting program policies to working with unions, to developing the platform to facilitate posting and finding project opportunities.
Department of Housing and Urban Development.  HUD agreed to pilot each of the three models and share their lessons with others.  For example:
The HUD Rotational Assignment Program (which started before GovConnect, as a pilot in 2012) reflects the GovProject model.  Its use was inspired by the Presidential Management Fellows Program's rotational assignments of 60-90 days to another office.  It was seen as helping individuals increase their professional network, develop varied experiences, and clarify their career paths.  Then-Secretary Shaun Donovan asked HUD's Learning Office to pilot 50 such assignments to start off with, and the program was seen as successful by the participants.   HUD is now experimenting with part-time rotational assignments, like the EPA model. 
HUD's Innovation Time program (which reflects the GovStart model) was inspired by the corporate sector's employee innovation time programs, such as 3M's program, where employees are allowed to use up to 10 percent of their work time to develop innovations that might be in areas outside their current work responsibilities.  HUD piloted this approach in two of its divisions on a voluntary basis. Over 70 participants worked on 26 projects over a four-month pilot period.  This program allowed participants to look beyond their "day job" to the broader organization and offer ways to help improve things.  For example, the Resource Locator project was developed by a team of HUD employees via Innovation Time and it is currently being expanded to the entire agency. The Resource Locater is an App that helps people find affordable housing in several metropolitan areas, including Portland, Oregon and Minneapolis, Minnesota.
HUD's effort to pilot the GovCloud model was not successful, at least initially. The idea was to create a squad of "consultants on demand" to work on different projects around the agency. After six months, the project was terminated – but there were lessons learned.Creating a team of generalist consultants was not successful, but a team with specialized skills, such as those held by members of the US Digital Service or GSA's 18F, might be more successful.
Social Security Administration. SSA launched its Skills Connect pilot initiative in January 2015, to run for a six-month period. According to Reginald Wells, SSA's deputy commissioner for human resources, the pilot offers employees access to a new venue for developmental opportunities, where they can volunteer for mini-projects up to 20 percent of their time, with their supervisor's approval.  Projects can last up to six months.
The pilot is open to about one-third of the agency's staff (about 21,000), located in SSA's headquarters in Baltimore as well as two regional offices in Atlanta and Boston.  To date, there have been 103 projects posted on the pilot's web portal.  He says there has been widespread interest expressed, with about 12,000 visits by employees to portal. There have been 517 applicants, with 80 matches, so far. Projects have ranged from technical web design to legal assistance.
Wells sees this pilot as "overwhelmingly successful" and that it takes advantage of the staff's diversity of thought, talent, and experience and that they are no longer bound by their geographic or organizational boundaries. He see government moving in the direction of project-based work -- much like it is in the private sector -- that reaches across organizational and geographic lines. The pilot, he says, reinforces SSA's recent Vision 2025 of how it will do its work in the future.
Next Steps
According to OPM's Kline-Lee: "Single agency pilots will continue through fiscal year 2015 as we aim to increase the adoption of evidence-based practices and design multi-agency pilots for fiscal year 2016 replication.  Our goal is to incorporate lessons learned from both single-agency and multi-agency pilots into designing the final GovConnect program."
Graphic Credit:  Courtesy of Salvatore Vuono via FreeDigitalPhotos.net