Submitted by

cmasingo

on Wed, 12/20/2017 - 13:08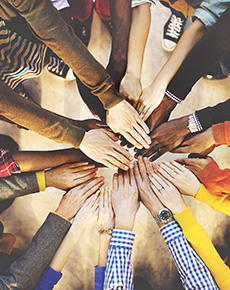 Monday, November 13, 2017
Everyone knows the importance of teamwork in government, yet we have a system that encourages solo performance. This article argues that team targets can successfully align individual performance with group performance.
The Challenge
Government is famously a team sport. Almost everything (really) important we do in government requires effective teams. Whether it is reducing child mortality, disaster management, fighting opioid crisis or stopping money laundering. The list is indeed long and familiar.
Like in all team sports, it is not important how well you do individually, rather, how well you do as a team. Yet, governments around the world are notorious for their 'silo' mentality. Government departments, agencies, units within agencies and their subordinate and attached offices work as silos unto themselves. Even when governments have a performance management program for the whole-of- government, they often end up creating islands of excellence and a lot of really important stuff requiring inter-agency coordination tends to fall through the cracks.
Not surprisingly, governments are acutely aware of this dilemma and therefore have tried different approaches to promote greater coordination among silos. Alas, very few have truly succeeded in doing so. In this article, I will outline the principles for designing an effective system of team targets based on my experience of doing so for the Government of India.
The most common method for dealing with silos in most government is the "inter-departmental committees." Known variously as inter-agency coordination group, inter-ministerial group and so on, they suffer from some well-known limitations. Most such groups often meet to reiterate their departmental positions. Few try to come up with ideas that would make them more accountable for the outcome of the government as a whole. Often, the buck is passed on to another agency and claims are made that this is not part of their mandate or they do not have resources to deliver this expected outcome.
To be sure, these inter-agency groups do succeed occasionally. When they do, it is because they have been set up by the chief executive in the government (President or Prime Minister) and are also being regularly monitored by them. This approach is, therefore, limited in scope, as there is only a finite number of such team targets that the chief executive can monitor. It is also not sustainable. A change in the chief executive (head of the government) can change the level of interest and engagement by agencies, and, hence, the degree of eventual success in achieving team targets.
A Case Study on Team Target
The concept of Team Target in India was introduced in 2011 and described as follows: All government departments that are required to achieve a common "goal" or "objective" for the nation are to be designated as a team for that "objective." For example, for electric power generation in India, the team consisted of the following five agencies: (i) Ministry of Power, (ii) Ministry of Coal, (iii) Ministry of Railways, (iv) Department of Heavy Industries and (v) Ministry of Environment and Forests. This was designated as the "Electric Power Team."
Each such team had to agree on a Team Target/Group Target jointly. Hence, the 'Electric Power Team' had to agree on a target for additional power to be generated in a given year. This target had to be consistent with the Government's strategic plan. For the year 2013-14 the Electric Power Team agreed to jointly deliver 18.5 K MW of additional generation capacity and 975 Billion Units of additional Electric Power.
Once the team agreed on a Team/Group Targets, they were included with an appropriate weight of 5 percent in the government-wide performance appraisal system known as the Results-Framework Document (RFD) of individual departments making up the Power Team. This weight for 'team target' was to be in addition to their respective targets. Thus, Ministry of Coal was to continue to have a target for overall coal production. Team Target was in addition to all other targets for the Ministry of Coal and had the same value across all RFDs.
This meant that even if the Ministry of Coal achieved its target for coal production but the team did not achieve the team target of 18.5 K MW of additional generation capacity, it would get 'zero' on the team target but full marks for its individual target. It incentivized the Ministry of Coal to not only ensure targeted production of coal but also make sure that it was being picked by railways in a timely manner and delivered on time to power plants.
As it turned out, the results of introducing team-targets in five departments achieved its objective and the departments worked together in ways they had never worked collectively to achieve that stretch team target. Same people with different incentives can work miracles!
Lessons of Experience
First, if we want government agencies to achieve team targets, we must incentivize them to do so. That is, achieving "team targets" must be explicitly part of their bottom line.
Second, team targets must be part of a comprehensive system of departmental accountability. If they are the only focus of the head of the government, then departments will ignore other aspects of their performance and the country may not be necessarily better off.
Third, a government-wide performance management system is a necessary condition to identify various areas requiring team targets. When departments are given targets related to outcomes associated with them and made accountable for them, they reveal other members of the team that are responsible for their success. In the absence of a government-wide performance management system, only the high profile targets with immediate political dividends tend to be focused on. New Zealand is the only other county that has a similar whole-of-government approach to team targets.
Note: This article first appeared in PATimes, published by the American Society for Public Administration, and is republished here with permission.