Submitted by

rthomas

on Fri, 12/22/2017 - 14:53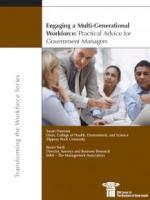 Tuesday, February 1, 2011
Have you ever led a staff meeting and realized that it was clear that a good chunk of the people there had no clue what you were talking about when you alluded to Howdy Doody, Tonto or Slinkies? Or when new staff seems to be more absorbed in their iPad in
This is the challenge of leading in a multi-generational workforce, which now spans four generations, and is increasingly driven by rapid technological changes that have changed the nature of work and how it gets done.
Susan Hannam and Bonni Yordi explore these cultural differences and changes and what they mean for government executives trying to ensure their entire workforce is engaged in the mission.  Their report, "Engaging a Multi-Generational Workforce:  Practical Advice for Government Managers," observes that each of the four generations brings a different set of skills and life experiences to the workplace which can be used positively to increase diversity of knowledge and perspectives.
Multi-Generational Workplace - An Overview
Hannam and Yordi say that in order to successfully lead in 21st century organizations and engage employees, government executives need to be aware of the major differences between generations.  They offer practical tips in five areas:
Communication Tips.  Each of the four generations now in the workplace have different preferences on how they like to both receive and send communication, as well as how they like to interact with colleagues.   The report outlines suggested ways!
Work-Life Balance Tips. Each of the four generations has different work-life balance needs and the flexible work arrangements should be designed to meet the specific needs of the four generations.  For example, leaders need to rethink what work is, and where it can be done.  Another IBM Center report focuses on telework, but there are other strategies as well, such as compressed work schedules, which the federal government pioneers two decades ago.
Growth and Development Tips.  Each of the four generations has different learning styles and preferences as to how they like to obtain information and knowledge.  For example, actively embracing social networking – instead of banning it – can dramatically improve productivity and serve as a way to attract talent.
Tips for Providing Recognition and Rewards.  A multi-generational workplace requires organizations to develop new types of reward and recognition programs, including rewarding contribution.  While traditional workers like tangible symbols of recognition, such as plaques and certificates, people from the Gen Y period prefer other recognition such as time off or upgraded resources.  Tailoring recognition to be meaningful to the recipient needs to be a factor.
Employee Engagement Tips.  A multi-generational workplace requires organizations to increase their mentoring initiatives and offer various types of mentoring programs, including opportunities for younger generations to mentor older generations, for example, in the uses of new social media technologies.  This can be one way to increase skill development but also can be a way to create and maintain cross-generational engagement.
Some federal agencies have approached this challenge head-on.  For example, NASA developed a program to attract and retain new, younger employees and found that the other generations wanted to be included as well, so the program was expanded.