Submitted by

SGold

on Tue, 12/26/2017 - 16:59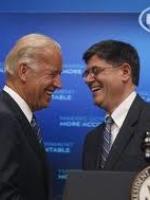 President Obama issues an Executive Order to cut waste, streamline government and reinforce the Administration's performance and management reform efforts. He also appoints Vice President (Sheriff Joe) Biden in charge of this new Campaign to Cut Waste
On Monday, June 13, in a 4-minuteYouTube message to the American people, the President sat next to a stack of Federal Registers to highlight the steps he taking to take to get rid of "pointless waste, stupid spending."  
In an Executive Order titled "Delivering an Efficient, Effective, and Accountable Government," the President appointed Vice President Biden to head-up the Campaign to Cut Waste.  
The EO ties together several existing and new efforts, by
(a)   Describing the Accountable Government Initiative which the President announced to the Senior Executive Service on September 14, 2010, 
(b)  Assigning the Deputy Director of OMB (and Chief Performance Officer) to work with the President's Management Council to identify and adopt best practices across agencies,
(c)   Requiring agencies to designate their new Chief Operating Officers to be the "Senior Accountable Officials" under the GPRA Modernization Act to lead agency performance and management reform efforts
(d)  Calling for OMB guidance as part of the FY 2013 budget process for specifying areas of program overlap and duplication, and
(e)   Assigning Chief Financial Officers responsibility for achieving agency cost savings.
In addition the new EO establishes a Government Accountability and Transparency Board – modeled on the Recovery Act Board – to provide strategic direction for enhancing the transparency of federal spending and advancing efforts to "detect" and remediate fraud, waste, and abuse in federal programs.   A White House press release provides some more detail.
Vice President Joe Biden addressed this latter portion of the effort in a briefing late Monday morning.  Introduced by Office of Management and Budget Director Jack Lew, the Vice President described the successful implementation of the Recovery Act which was "remarkably free of fraud."  He said the new effort to cut waste will institutionalize the Recovery Act model of transparency to "deter" not just "detect" fraud using sophisticated tools to shine a light on fraud, waste and abuse.