Submitted by

JKamensky

on Tue, 05/12/2020 - 14:48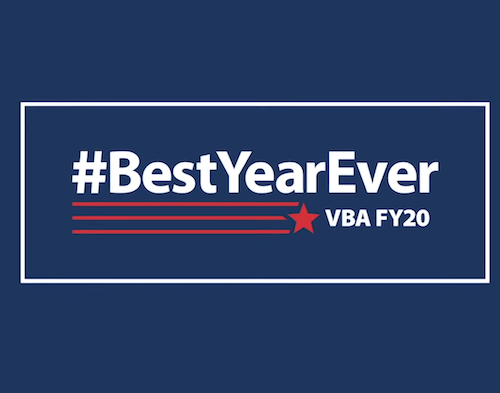 There's a lot of media about the heroic work of federal employees engaged in responding to the epic health, economic, and social effects of the coronavirus pandemic.
But there's also some pretty amazing stuff going on in federal agencies that are not directly on the pandemic response front lines – and are getting their core mission work done from home.
One of those agencies – the Veterans Benefits Administration – has even exceeded its performance targets set before the coronavirus pandemic!  And at the same time, agency head Undersecretary Paul Lawrence has accelerated his personal outreach efforts to veterans via state-by-state tele-town halls where he's connecting with tens of thousands of veterans in each state.
Lawrence started fiscal year 2020 back in October with a campaign to make 2020 the "Best Year Ever" in terms of VBA's productivity and service to veterans. After successfully cutting the backlog of pending benefit claims in 2019, he set even more aggressive performance targets for 2020.
The pandemic almost derailed those efforts. However, the VBA team set up a "war room" in headquarters and developed work-arounds for how its 25,506 staff could get their jobs done via distance work arrangements.
In his most recent quarterly webcast on VBA's performance, he lauded the eight business line teams for actually beating their quarterly goals.  For example, the benefits team exceeded its quarterly target by 20 percent. In addition, VBA quickly adjusted some long-standing protocols to adapt to the coronavirus pandemic in order to continue serving veterans. For example, the compensation and pension business line halted its traditional in-person medical exams and switched to telehealth video and audio interviews while using private doctor treatment records. In addition, the GI Bill program will continue to pay housing allowances even if veterans are only able to attend on-line courses.
Dr. Lawrence noted that while VBA may have closed physical offices, he says they are still working and "still here and ready to deliver services."
In addition to his team's efforts, Dr. Lawrence imposed some stretch goals on himself – that he would personally connect with one million veterans via state-by-state tele-townhalls and weekly national Whiteboard info sessions each Friday using LinkedIn Live and YouTube.
In these calls, he provides an update on VBA's activities and how to apply for various benefits – housing, disability, GI Bill, insurance, etc. The calls are well-attended. For example, the tele-townhall in New York had 59,300 participants, 33,000 in Ohio, and 9,100 in Alaska. In these calls, Dr. Lawrence personally answers questions posed by those on the line over the course of an hour.
While it's unclear if he'll meet his personal performance target of reaching one million veterans via his outreach efforts, as of Monday, May 12th, he has hosted 14 state calls – with many more to come. So far, he says, he's connected with more than 350,000 veterans.
So, while 2020 will be memorable for most as being the start of a different way of life as a result of the coronavirus pandemic, at VBA it might well be remembered as "The Best Year Ever."