Submitted by

rgordon

on Tue, 05/23/2023 - 11:02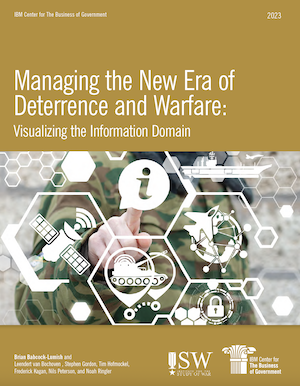 A recent report and expert panel provide insights into a core new tool for operations, analysis, and decisionmaking.
The IBM Center for The Business of Government and the Institute for the Study of War recently launched a new report, Managing the New Era of Deterrence and Warfare: Visualizing the Information Domain.  The report launch, seen here, featured a presentation of key findings from two of the authors, Brian Babcock-Lumish and Frederick Kagan, and an engaging expert panel discussion with Steve Hunnewell, Director of the Information Office for the US Indo-Pacific Command; Michael Rouland, Senior Strategic Advisor for the Russia Strategic Initiative with US European Command; and Emelia Probasco, Senior Fellow with the Center for Security and Emerging Technology at Georgetown University.
This report and the event discussions culminate a series of sessions that our two organizations led over the past year, which convened leaders from allied, partnered, and U.S. militaries, governments, academia, and industry to envision and shape future strategic advantages through visualizing information operations. The three events gathered experts and practitioners to discuss the topic from a foundational perspective, from the case of Russia and Ukraine, and finally of China.
U.S. and allied leaders increasingly need new solutions for achieving and maintaining a common operating picture that integrates information operations with air, land, sea, space, and cyber domains. This report and the discussions address the unique challenges for understanding and visualizing the information domain and its importance in managing modern defense and intelligence activity. The report also puts forward criteria for how such visualizations could be developed in the future to support managing information activities at the operational, analytical, and decision-maker levels.
As context, global leaders contributed insights to this report that converged on three core challenges of understanding and visualizing the information domain:
First, the information space is a chaotic system, in which slight variations in conditions can dramatically impact how information traverses space and time.
Second, any visualization of this mélange of data points—data from the entire information space that includes mass and social media as well as cultural and socioeconomic networks—must be useful to decision makers at multiple echelons and overlayed onto visualizations of the land, air, sea, space, and cyber domains.
Third, the vast information domain must remain bounded to build effective visualizations
This work concludes with a finding that the United States and allied partners have tremendous, indeed unique, advantages in the ability to design, build, field, and use globe spanning complex systems integrating enormous amounts and varieties of data, platforms, munitions, personnel, doctrines, and ways of thinking.  Yet governments cannot keep pace with the implications of emerging technologies alone, necessitating an unprecedented public-private partnership in developing new information capabilities.  Governments and stakeholders can act now to succeed in the future, by bringing new skills and capabilities to addressing the challenges posed by technological changes and by raising the prominence and importance of developing practical ways to visualize information operations in a way that support field operations, strategic analysis, and command decisions.
As noted at the launch event's closing session, we welcome a collective of ideas for how to take actionable next steps in addressing this critically important challenge for managing modern warfare.  We hope that this report and the discussions and collaborative actions that result increase understanding and collaboration around developing information visualizations that can help the U.S., allies, and partners address ever accelerating challenges.