Submitted by

rgordon

on Thu, 09/27/2012 - 14:38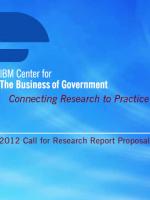 Since the creation of the IBM Center for The Business of Government over fourteen years ago, it has been our goal to help public sector leaders and managers address real-world problems.
Our aim is to produce research and analysis that helps government leaders more effectively respond to their mission and management challenges.
The IBM Center is named "The Business of Government" because its focus is the management and operation of government, not the policies of government. Public sector leaders and managers need the best, most practical advice available when it comes to delivering the business of government. We seek to "bridge the gap" between research and practice by helping to stimulate and accelerate the production of actionable research.
For this reason, we are pleased to solicit proposals that ultimately will result in reports with insightful findings and actionable recommendations for government leaders and public managers in the following areas of interest:
Leading in an era of complex challenges
Managing collaboration and connectivity
Using data and analytics to make better decisions
Pursuing cost savings and improving performance
Identifying acquisition approaches that engage the private sector more effectively
Managing risks and responding to threats in today's security environment
Providing insights for the presidential transition from campaigning to governing
We are eager to help communicate what you know about "what works" in these areas to busy government leaders and public managers.
Interested individuals should download and review the Research Announcement as well as review our webpage, which includes frequently asked questions before applying online.