Submitted by

rgordon

on Tue, 10/19/2021 - 09:52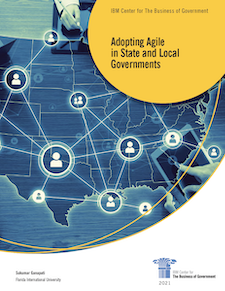 This new report examines the adoption of Agile among state and local governments.
Agile emerged initially as a set of values and principles for software development, first formalized with the "Agile Manifesto" in 2001. For two decades, Agile approaches helped revolutionize software development. Today, Agile strategies have been adapted to government services beyond software development, offering new ways of thinking and delivering in areas such as project management, policymaking, human resources, and procurement.
The basics of Agile and associated methods have been addressed in previous IBM Center for The Business of Government reports, which provide a good overview of Agile principles, use of "Lean," and application of user-centered design. These basics and a more recent report on Agile Government provide insights into the evolution of Agile adoption in public sector over the last two decades.
This new report by Professor Ganapati examines the adoption of Agile among state and local governments. State and local agencies have increasingly adopted Agile methods in the last decade, applying them across a range of applications. At the same time, agencies vary widely in their maturity levels for adoption and implementation.
Professor Ganapati identifies three broad phases in this lifecycle of Agile maturity among public agencies. The three phases do not have distinctive breaks between them. Rather, they fall along a continuum, as public agencies evolve through the lifecycle of implementing Agile. The report highlights the evolution of Agile in the cases of four governments—two states (Connecticut and California) and two cities (New York and Austin). The cases show the rich contextual evolution of Agile, and how the methods support using technology to streamline enterprise processes and address social policy problems. The case studies show different trajectories of adopting Agile in state and local governments— strategies for adopting and implementing Agile methods vary in the three lifecycle phases of infancy, adolescence, and adulthood. The case studies offer lessons for enabling strategies to adopt Agile across these three phases.
As Professor Ganapati's research underscores, Agile does not present a panacea of preset tools of practices. Agile involves a mindset of organizational change. As a process of continuous improvement, Agile methods themselves can mature over time with doing, testing, and improvement.
This report complements other work we are doing in expanding the use and application of Agile methods to changing the way government operates such as our collaboration with the Agile Government Center (AGC), a new initiative through the National Academy of Public Administration that has as its mission the promotion of Agile practices across government agencies. The report also joins a host of other IBM Center report focusing on Agile techniques and how they can help improve government. Prior studies on this topic include: The Road to Agile Government: Driving Change to Achieve Success, A Guide to Critical Success Factors in Agile Delivery, Agile Problem Solving in Government: A Case Study of The Opportunity Project,
and Transforming How Government Operates: Four Methods of Change.
We hope that the cases studies, insights, and recommended strategies outlined in this report will help government agencies in their efforts to adopt and implement Agile methods, taking advantage of evolving capabilities that can enhance public management, ensure better outcomes, and improve public trust in the delivery and operations of government at all levels.