Submitted by

rgordon

on Wed, 02/28/2018 - 10:09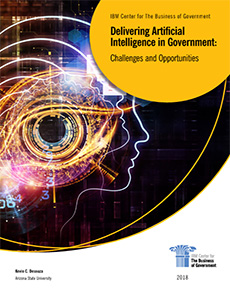 This report reviews progress made in applying artificial intelligence to public sector service provision, drawing on lessons learned from commercial experience as well as cognitive computing activity by Federal, State, & international governments.
The author takes this real-world experience to set forth a framework for agencies to plan, develop, and deploy AI systems. He then puts forward a set of challenges for government leaders and innovators in this space, along with opportunities for agencies to act in addressing these challenges. Finally, Desouza outlines a maturity model for agencies to use in guiding their journey forward in applying AI to improve mission performance.
Desouza frames his opportunities in three broad areas: technology and data, workforce, and risk management. In each area, agency leaders will find key factors that they can apply to increase the likelihood that emerging AI and cognitive applications will be implemented successfully. These factors include:
Upgrading IT infrastructure to support AI systems, leveraging cloud computing technologies.
Identifying data intensive applications that can benefit from AI, and establishing data governance to take best advantage of the benefits that AI can deliver.
Enabling a skilled public sector workforce to use AI, including through agile implementations and redesigned work processes.
Developing AI in a manner that augments human decisionmaking, and follows ethical imperatives around transparency, security, auditability, and citizen involvement.
Working in partnership with government, academia, and industry.
The author builds on his prior work for the Center on IT management by CIOs and other public sector IT leaders, and follows on our recent report with the Partnership for Public Service that identifies case studies of government success in this space, The Future Has Begun: Using Artificial Intelligence to Transform Government.
We hope that agencies will find the practical and actionable steps offered in this report the be useful in capitalizing on the potential for AI to improve government.
Read the Route Fifty article.