Submitted by

rgordon

on Tue, 05/03/2011 - 09:48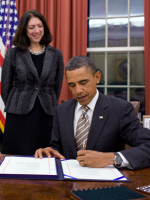 Congress recently passed – and President Obama just signed -- legislation updating the 18-year-old Government Performance and Results Act (GPRA).
This update effort started several years ago through the efforts of Congressman Henry Cuellar (D-TX) then evolved more recently with support from Senators Tom Carper (D-DE) and Mark Warner (D-VA).
The update is based on more than 15 years of experience – documented through numerous GAO reports that culminated in a 2004 overarching assessment.  This experience included both the evolution of agency practices as well as increased access to information and collaboration via the Internet.
The original 1993 law required agencies to create multi-year strategic plans, annual performance plans, and annual performance reports.  The new legislation makes some significant changes – about 150 actions by one count – to existing law and will take several years to implement.
Read the entire summary.