Submitted by

rgordon

on Wed, 04/12/2023 - 10:04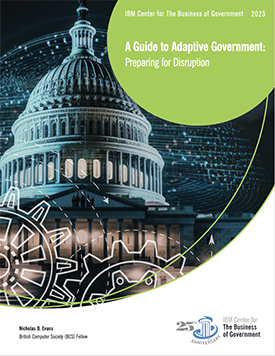 With disruption now the norm rather than the exception, governments need to rethink business as usual and prepare for business as disrupted.
Government executives and managers should plan for continuous disruption and for how their agencies and departments will operate under continuous turbulence and change. In 2022 alone, the world witnessed war in Ukraine, the continuing effects of the COVID-19 pandemic, and natural disasters such as Hurricane Ian—not to mention energy scarcity, supply chain shortages, the start of a global recession, record highs for inflation, and rising interest rates.
Traditional business continuity and disaster recovery playbooks and many other such earlier approaches—born when disruption was the exception—are no longer sufficient. Rather than operating "business as usual," government agencies and departments now must plan and operate for "business as disrupted." One other major pivot point: when these disruptions happen, such as COVID, they bring an opportunity to drive a long awaited or postponed transformation. It is about leveraging that opportunity for change and not simply returning to the status quo The impact to supply chains during the COVID-19 pandemic and recovery illustrates this insight.
According to author Nick Evans, governments therefore need to not only transform their business models, processes, and services, they also need to create an "adaptive government" at their core, such that support for change and intrinsic agility is engineered into current and future operations. The author describes adaptive government as having the ability to respond rapidly to change—including challenges and opportunities—with agility across both digital and physical aspects of its mission and operating model to continuously maximize stakeholder benefit. This planning requires not a once per year reset or recalibration, and not just building a digitally transformed organization. Rather, it requires an adaptive government, with intrinsic agility encoded in its digital operating model and digital processes for responding to continuous disruption in real time.
Evans recognizes the importance of pursuing agile principles as foundational in realizing the vision of adaptive government described in this report. Agile government principles serve as a powerful foundation for building "intrinsic agility," since they encourage key cultural, behavioral, and growth mindset approaches to embed agility and adaptability into organizational norms and processes. Many of the insights, guidance, and recommendations offered in this report complement work pursued by the Agile Government Center (AGC), led by the National Academy of Public Administration in collaboration with our Center, and spearheaded by NAPA Fellow and Center Executive Fellow Ed DeSeve.
This report illustrates the strategic significance of adaptability to government organizations today. The author offers new strategies, techniques, and tools to accelerate digital transformation, and better position government agencies to respond to the next wave of both opportunities and disruptive threats—similar to what our Center, NAPA, and partner organizations refer to as "future shocks." Adaptability as a core competency can support both innovation and risk management, helping governments to optimize for ever-changing mission needs and ambient conditions Adaptability represents a powerful enabler for modern government and enterprise organizations.
We hope that this report helps government leaders, academic experts, and other stakeholders to infuse adaptive thinking throughout the public sector, leading to more effective operations, better outcomes, and improved performance in a world where the only constant seems to be the inevitability of change and disruption.