Submitted by

rgordon

on Mon, 09/26/2011 - 12:05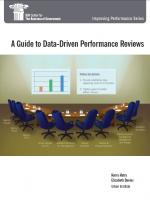 The GPRA (Government Performance and Results Act) Modernization Act of 2010 introduces a new requirement. Agencies must now conduct quarterly performance reviews of their most important goals.
 The law says that these reviews must:
Be led by the agency's chief operating officer
Assess progress toward priority goals
Use the results to change direction if needed
This report examines federal agencies that are using data-driven performance reviews to improve agency effectiveness and efficiency. It draws from practices of agencies, including state and local governments. In their research, the authors identify three prerequisites to successful performance reviews:
Interested and engaged leadership
Timely performance measures
Staff that can analyze the measures before the performance review meetings
The report serves as a "how to" guide for setting up and running data-driven performance reviews. It lays out who needs to be involved, how to organize the meetings, what kinds of performance information should be collected, how to run the meetings, and how to follow up afterwards.