Submitted by

rgordon

on Wed, 11/18/2020 - 09:00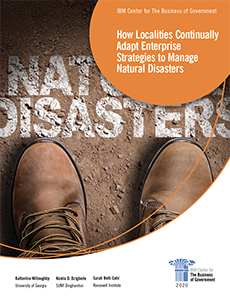 In recent months, we've seen massive, record-breaking wildfires, a record-breaking number of hurricanes, and a punishing derecho in the Midwest. As climate change continues, we can only anticipate more in the months and years to come. But are localities prepared?
The authors of this report delve into city-level surveys of hundreds of communities, conducted by the International City/County Managers Association, to learn firsthand what challenges face local leaders and how they prepare in advance to blunt the effects of natural disasters.  They interview dozens of local leaders for their advice and insights and then used these insights to develop a framework that can guide local leaders as they strategize ways to minimize the effects of natural disasters on their communities and economies in the future.
This framework includes two key strategic steps for local governments to adopt: (1) create a long-term, enterprise-wide approach to building resiliency in advance of any disaster in order to mitigate damage and speed recovery, and (2) grow a steady network of partners, horizontally and vertically, to manage as successfully as possible through disaster.  Horizontal partners include community groups, private businesses, nonprofits, neighboring jurisdictions, and regional pacts. Vertical partners include their state and its agencies, and the federal government.
Read the blog post, "Disasters Are Inevitable; Government's Inadequate Response Is Not" in Route Fifty about the report.