Submitted by

rgordon

on Wed, 08/29/2018 - 07:28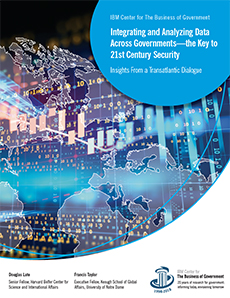 This report focuses on data gathering, analysis, and dissemination challenges and opportunities across the homeland security enterprise, looking especially at how improved information sharing could enhance threat prediction and prevention in a transatlantic context.
The authors address how stakeholders in the U.S. and Europe can increase the understanding of effective ways to leverage channels involving technology, human capital, organizations, and private sector coordination that meet strategic, mission, and operational needs. The report highlights opportunities for governments to leverage data integration and analytics to support better decision making around cyber and homeland security.
The authors draw primarily on findings from two roundtable discussions with current and former government leaders and stakeholders. The first meeting, held in Washington, D.C. in October 2017, focused on how the U.S. Department of Homeland Security (DHS) information sharing enterprise can have the greatest impact and interaction with partners. The second meeting, held at the U.S. Mission to the European Union (EU) in Brussels in March 2018, focused on how the European Union and other European organizations and member states can work with U.S. agencies to enhance outcomes from improved information sharing.
Given the imperative for transatlantic and cross-sector collaboration to understand and respond to an increasingly complex set of threats facing governments, we hope that this report provides timely insights for public sector leaders and stakeholders.
Read the Infographic of the report.
Download the Prezi presentation for the report.
Read the article in Government Executive about the report.