Submitted by

rgordon

on Wed, 03/02/2022 - 12:11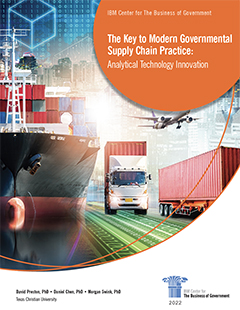 This report provides insight into the impact of analytics, block chain and artificial intelligence on supply chain management practices.
Over the past few years the COVID-19 pandemic has done much to expose and highlight critical gaps and flaws in the global supply chain. While demand for products and services continues to surge, key players in the supply chain delivery value chain struggle to meet that demand in a timely fashion. Scarce supply has resulted in increasing prices for finished goods and raw materials and an inflationary global economy.
With this scenario as context, recognize that the United States government, including federal, state, and local entities are estimated to have purchases that contributed about $3.18 trillion, or about 17 percent of the total GDP in 2018. In addition, the cost of operating supply chains is estimated to contribute up to two thirds of the final cost of goods sold. Any improvement in supply chain operations achieved through effective supply chain management will have a significant positive impact on timely delivery and appropriate pricing of goods and services. Many of these improvements can be realized through analytical or technology improvements, yet both commercial and government entities have not tapped into the full potential of technologies and analytical approaches available to them.
To address this critical issue, the IBM Center for the Business of Government commissioned a report researched and produced by Dr. David Preston and his colleagues, Dr. Daniel Chen and Dr. Morgan Swink of Texas Christian University. The report is entitled "The Key to Modern Governmental Supply Chain Practice: Analytical Technology Innovation" and it provides insight into the impact of analytics, block chain and artificial intelligence (AI) on supply chain management practices. The report also provides the reader with three frameworks that are helpful for designing and implementing an effective supply chain practice, enabled by technology and analytics. The first framework examines the key drivers of analytics usage for SC practice, the second examines the influence of analytics usage on SC performance outcomes and the final framework goes deeper into the ways to optimize analytics and incorporating continuous learning for the organization.
This report joins a recent IBM Center report focusing on supply chain management: Planning for the Inevitable: The Role of the Federal Supply Chain in Preparing for National Emergencies by Robert Handfield, Bank of America University Distinguished Professor of Supply Chain Management at North Carolina State University.
We hope that this report will provide you with a view into the opportunity provided by practical application of analytics and emerging technologies to supply chain practice.