Submitted by

rgordon

on Thu, 10/07/2021 - 09:00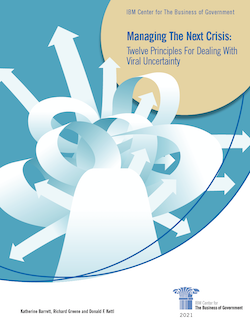 Governments and societies continue to face the unforeseen and unprecedented challenges of responding to and recovering from the COVID-19 pandemic.
The experiences of the last 18 months have pointed to the importance of well-managed actions at the local, national, and cross-border levels. Many of these steps address issues that are now well-documented, including medical support for testing, contact tracing, and vaccine management; supply chain challenges around vaccine production and distribution; impacts on local job markets; and the importance of addressing equity in delivering needed social services.
In this report, authors Barrett, Greene, and Kettl—renowned experts on governance at all levels—step back to understand how governments have operated in developing strategies and programs to address these global, societal challenges. Based on extensive research and interviews, the authors develop twelve principles, each accompanied by a recommended set of actions, for government to follow in addressing future crises. Importantly, these principles and actions can enable government officials to help their constituencies advance through the current stages of COVID response and recovery, and to emerge stronger and more resilient.
The principles and associated actions identified in the report address three critical imperatives for managing through the pandemic and preparing for the future:
Building partnerships with key organizations in the public, private, and nonprofit sectors.
Managing networks needed to drive such partnerships to overcome challenges, through improving operations and service delivery.
Steering outcomes across networks that lead to well-understood and measurable improvements in the health and well-being of the public.
This report builds on recent work from our Center to help governments address and move forward in the face of the COVID pandemic, including COVID-19 and its Impact: Seven Essays on reframing Government Management and Operations; a series of blogs from both Don Kettl (see Lessons from COVID); and a series of blogs with IBM expert perspectives around how governments can leverage resiliency to emerge stronger (see COVID-19's final phase: How governments can emerge stronger, more resilient). The report also continues the Center's work with leading experts in addressing crises over time, including Responding to Global Health Crises: Lessons from the US Response to the 2014-16 West Africa Ebola Outbreak; and Planning for the Inevitable: The Role of the Federal Supply Chain in Preparing For National Emergencies.
We hope this report provides useful insights for government officials at all levels to move forward effectively from the current pandemic, and better prepare for the inevitability of future crises.