Submitted by

rgordon

on Wed, 02/22/2023 - 18:00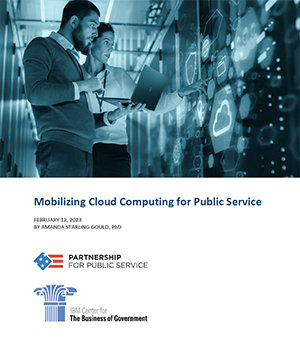 Federal agencies are increasingly employing secure and scalable cloud solutions to transform how the government operates, and how it provides effective and equitable digital public services.
To understand how agencies are mobilizing cloud computing for public service, the Partnership, in collaboration with the IBM Center for The Business of Government, hosted a series of events in 2022 featuring federal IT leaders. Over the course of three webinars, we heard from the Census Bureau; the departments of Agriculture, Defense and Veterans Affairs; the Federal Emergency Management Agency; the Government Accountability Office; the National Institutes of Health; the National Oceanic and Atmospheric Administration; and the Office of Personnel Management.
This brief offers key cloud computing strategy insights from individuals at each organization, while highlighting the stories of five:
how the Census Bureau, FEMA and NOAA have planned for transformed field work and workforce by creating 'hybrid' ecosystems—which distribute data across multiple cloud and other computing environments—that employees can access on the ground, afloat at sea and in the eye of a hurricane;
how the VA is making veterans' experience more customer-centric and secure through sophisticated cloud services; and
how the NIH is optimizing multiple cloud systems to reduce cost and maximize performance, resulting in "vastly accelerated discovery and innovation in science and medicine," according to Andrea Norris, NIH's former chief information officer.