Submitted by

rgordon

on Thu, 02/28/2019 - 06:00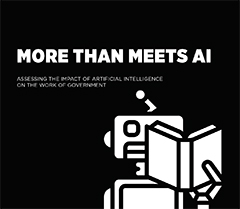 Assessing the Impact of Artificial Intelligence on the Work of Government
Human beings have been interested in intelligent automation as far back as ancient times, when Greeks believed an automated man made of bronze circled Crete several times a day to protect Europa, the mother of the island's King Minos, from pirates and invaders. This myth from more than 2,000 years ago perhaps prophesized the vision people have today of relinquishing routine tasks to machines, so people can take on assignments that require creative thinking and high-level reasoning. Now, it is not a bronze man performing a daily job, but artificial intelligence that is automating everyday tasks at an increasing rate. The world is grasping the possibility that technology could simplify numerous repetitive jobs.
Government has taken notice. In May 2017, Congress established the bipartisan Congressional Artificial Intelligence Caucus, and members have since introduced numerous pieces of legislation on AI. On the other end of Pennsylvania Avenue, the administration launched the American AI Initiative through a February 2019 executive order. It calls on agencies to prioritize research and development investments in AI, improve access to data and the computing power AI systems rely on, create guidelines for dependable AI technology and take steps to prepare the American workforce for the coming disruption. The Defense Department also recently released its own strategy on how to incorporate AI into national security.
The federal government will not be immune to technological changes. Agencies and their leaders will have to manage challenges that arise from the extensive disruption AI brings while taking advantage of the opportunities it presents. Federal employees will need new technical and social skills to succeed in AI-augmented workplaces.
The Partnership for Public Service and the IBM Center for The Business of Government believe the opportunities AI affords far outweigh the challenges. AI could enable agencies to fulfill their numerous roles more efficiently and effectively by reducing or eliminating repetitive tasks, revealing new insights from data, improving customer service and enhancing agencies' ability to achieve their missions.
Drawing from multiple discussions with current and former federal executives and leading academics in the AI field, this paper highlights steps government needs to take for successful implementation. We focus on three areas of impact these experts agreed agencies will need to consider and manage: a transformed workday, the potential for personalized customer service and the increased importance of technical and data skills.
We aim to spark a conversation on the use of AI, help prepare federal leaders to assess the inevitable changes coming and provide government leaders with insights to navigate this transformative time.
The federal government can lead or follow on AI. We believe agencies can lead, and we are optimistic that they will meet the challenge.
Read the article in Federal Computer Week, "More Than Meets AI."
Read the article in Federal Times, "AI to Change the Federal Workforce 'Over Years and Decades.'"
Read the article in FEDWeek, "Report Cites Potential Benefits of AI in Federal Workplace."
Watch the television interview on GovernmentMatters TV.
Listen to the interview on Federal News Network, "Many Reasons for AI but Where Does the Government Stand?"