Submitted by

rgordon

on Thu, 09/04/2014 - 13:35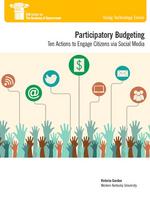 Participatory budgeting is an innovation in direct citizen participation in government decision-making that began 25 years ago in a town in Brazil.
It has since spread to 1,000 other cities worldwide and is gaining interest in U.S. cities as well.
Dr. Gordon's report offers an overview of the state of participatory budgeting, and the potential value of integrating the use of social media into the participatory process design. Her report details three case studies of U.S. communities that have undertaken participatory budgeting initiatives.  While these cases are relatively small in scope, they provide insights into what potential users need to consider if they wanted to develop their own initiatives.
Based on her research and observations, Dr. Gordon recommends ten actions community leaders can take to create the right participatory budgeting infrastructure to increase citizen participation and assess its impact.  A key element in her recommendations is to proactively incorporate social media strategies.
Read the article in Government Executive.
Read the article in Governing.