Planning for the Inevitable: The Role of the Federal Supply Chain in Preparing for National Emergencies
Submitted by

rgordon

on Fri, 07/16/2010 - 12:58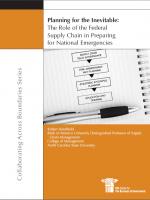 Professor Handfield uses the H1N1 pandemic threat as an illustrative example of how the federal and state governments need to evaluate their supply chain capabilities in preparation for national emergencies.
As we have seen in recent years, there has been no shortage of national emergencies - ranging from oil spills to hurricanes to the threat of a pandemic virus. In this report, Professor Handfield sets forth a framework in which governments can assess their supply chain preparedness prior to an emergency.
Over the last decade, the importance of an effective "supply chain" has become widely accepted in the both the public and private sectors. The federal government today clearly recognizes that an effective supply chain can lead to cost savings, and in certain instances, save lives. With the creation of the U.S. Department of Defense (DoD) Logistics Agency, the U.S. military recognized the critical importance of supply chain management to facilitate its multimissions and support its personnel. In addition to serving as an excellent introduction to supply chain management, Professor Handfield's report increases our understanding of how to assess supply chain preparedness.
While acquisition officials have some responsibilities for supply chain management, the area of supply chain management has not been as developed by civilian agencies as it has been by DoD agencies. This will need to change in the years ahead, especially as government continues to respond to national emergencies with increasing frequency.
A key recommendation of Professor Handfield is the need for a governance structure to initiate the assessment and identification of emergency response plans for each government agency. This governance structure would include both program managers as well as acquisition specialists. Agencies should start today to create dedicated teams to prepare and evaluate agency plans.