Preparing governments for future shocks: An action plan to build cyber resilience in a world of uncertainty
Submitted by

rgordon

on Thu, 03/23/2023 - 07:30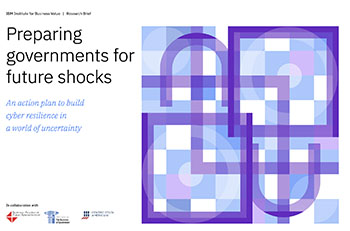 Since the advent of the internet, criminal groups, hacktivists, and state-sponsored threat actors have put governments in the crosshairs of cybercrime.
During the last half of 2022, the number of cyberattacks targeting governments increased by 95% worldwide, compared to the same period in 2021.1 The cost of public sector data breaches also increased 7.25% between March 2021 and March 2022, with an average cost per incident of $2.07 million.
Government digital platforms—and the sensitive information they store—represent target-rich environments. Economic globalization and digital interconnection of nearly every aspect of commercial and government activity have created an intricate digital ecosystem. Cyberspace has reshaped physical borders and governance models, and global networks mean that the impacts of threats and incidents can quickly escalate in magnitude and breadth if not addressed with speed and effectiveness.
In recognition of today's complex cyber threat environment, and the government's responsibility to secure a safe and secure digital ecosystem, the White House announced a comprehensive National Cybersecurity Strategy in March 2023. This strategy sets a path to make cyber defense easier and more cost-effective. It also focuses on reducing the impact of cyber incidents through resiliency and aligning efforts with national values to secure the promise of a digital future.
Over the last year, two roundtable events were hosted by the IBM Institute for Business Value (IBV) and the IBM Center for The Business of Government in collaboration with the National Academy of Public Administration and the Center for American Studies. Held in Washington, DC, and Rome, Italy, these events featured in-depth discussions about cyber resiliency and government leadership. Findings from these roundtables could help the US, Italy, and governments around the world develop and implement cybersecurity strategies that promote resilience through public-private partnerships.
After wide-ranging discussions, attendees outlined a series of actionable steps designed to help governments emerge stronger from current and future cyber shocks. Read the report!