Submitted by

rgordon

on Wed, 01/29/2020 - 11:33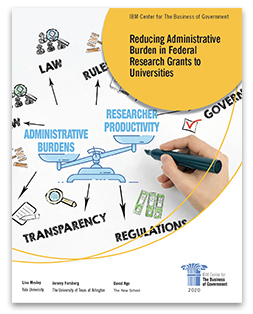 This report analyzes the regulatory and policy requirements that govern the management of federal funds invested in research at universities and the inefficiencies often generated in the form of administrative burden and cost. It examines this complex ecosystem of multiple stakeholders from the perspective of the grant recipient.
The authors focus on the financial and programmatic compliance requirements of managing grants at universities, with the understanding that at a foundational level, the ethical conduct and integrity of conducting research is critical to the success of the U.S. federal government's $40 billion annual research and development investment with universities. However, the emphasis on procedural accountability is increasingly undermining the ability of academic researchers to focus their attention on conducting the research itself. The authors report that researchers spend 44 percent of their research time complying with administrative requirements, many of which derive from federal mandates.
This report draws from the three authors' multiple decades of experience managing federally funded projects, implementing university policies and procedures to comply with federal regulations, overseeing federal audit engagements, and participating in various professional organizations in an attempt to reduce regulatory burden and promote efficient practices. 
The recommendations included in this report will require focused attention from a wide range of stakeholders: the Office of Management and Budget, federal agencies, universities, faculty that perform research, and the audit community; and are intended to:
Reduce overall costs of research for federal agencies and universities
Redirect costs and time of researcher activities spent on administrative tasks towards the conduct of research
Redirect oversight costs, resources, and activities of researchers, universities, federal agencies towards research quality and performance
Redirect audit practices to focus on value-added tasks that improve research performance and outcomes – the efficient and effective use of funds rather than "paperwork" accountability.
While this report is targeted to federal and university leaders, the issues raised are also being experienced by the broader grant recipient community of states, localities and non-profits.  As a result, the report's insights and recommendations should help inform a broader discussion and action on these issues.
Read our blog post on the report.