Submitted by

rgordon

on Mon, 08/01/2011 - 10:11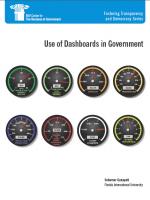 When President Barack Obama took office, he said "the question is not whether government is too big or too small but whether it works." But how do you know what works and what doesn't?
Government leaders are deluged with thousands of streams of data about the performance of their agencies and programs.
One approach the Obama administration has latched onto to make sense out of the deluge of data is the use of on-line "dashboards" of performance data that track the key performance metrics of various federal agencies and programs.  The administration has touted the benefits of dashboards as a way of organizing and filtering performance data so it makes sense to decision makers so they can understand and act on it.
One example has been the Federal Information Technology Dashboard, showing the status of dozens of technology investments across the federal government. The Obama administration claims that the dashboard, along with regular review meetings using the dashboard data, has led to decisions saving $3 billion in technology spending and cutting in half the delivery time of technology projects.
Agencies across government are now exploring how they can develop dashboards for their operations, as well.  Agencies profiled in this report include the Food and Drug Administration and the U.S. Patent and Trademark Office.
Congress has recently expressed interest in expanding the use of different transparency tools, including dashboards, across all federal spending programs.  As a result, their use may extend beyond the current administration and may become a standard tool in managing agency and program performance.
This report examines some of the early agency dashboards and offers constructive lessons to federal managers on how to use them effectively.
Listen to Mr. Ganapati's interview on Federal News Radio.