Submitted by

rgordon

on Mon, 01/08/2018 - 18:00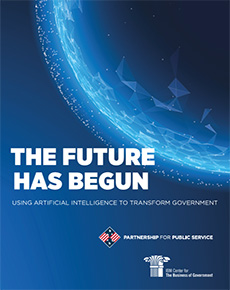 There have been times in our history when new technological discoveries led to indelible changes in our lives. We are living in one of those times.
In hindsight, it is easy to identify Alexander Graham Bell's invention of the telephone in the 1870s as an instrument of marvel, eventually connecting people worldwide. And of course, there is the internet, which, although it burst into the public realm less than 30 years ago, is a technology and service that few can envision living without, whether we understood that in the 1990s or not.
Similarly, future historians may look back at the 2000s and 2010s as the point at which artificial intelligence forever changed how the world works, revolutionizing the way we perceive, think, reason, learn and make decisions. Additionally, AI has the potential to help address many of our country's pervasive problems and advance our safety, health and well-being.
That promise has great potential to transform government. The most challenging problems AI may help us solve—from fighting terrorists to serving vulnerable populations—will involve government. More immediately, though not less consequentially, AI will change the way public servants do their jobs.
Because of the impact AI could have on how governments ensure our safety and further our well-being, government leaders are likely to play a significant role in dictating future directions for AI.
The good news is that our federal government is in a position to do just that. The AI field is advancing rapidly at a time when government is looking for new ways to achieve its mission, and AI will change the rules of what is possible.
It is our hope that the broad ideas offered in the following pages, and the dialogue the Partnership and the IBM Center for The Business of Government plan to continue on this topic, spark a conversation on using artificial intelligence to modernize how government works, and improve the services it provides to citizens.
Watch our report launch video that features federal leaders describing AI in their agencies.
Read articles and watch videos from the media on the report: