Submitted by

rgordon

on Tue, 02/23/2021 - 10:04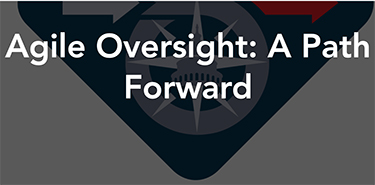 Tuesday, February 23, 2021
One way to promote better results in managing government programs is to more closely align the development of agile approaches to managing government with the development of agile oversight mechanisms.
Co-Authors: Dan Chenok, Executive Director IBM Center for the Business of Government and Academy Fellow; and Joseph P. Mitchell, III, Director of Strategic Initiatives, National Academy of Public Administration
Both are important efforts that can and should be advanced together. In the area of assuring the integrity of spending in large governmental programs – a task that is basic for Inspectors General and their busy offices (OIGs) – this is especially important. An ongoing challenge for OIGs is to efficiently identify the areas of vulnerability on which they should focus, especially in new, vast, complex programs like monitoring spending under the Coronavirus Aid, Relief, and Economic Security (CARES) Act passed in March 2020 as part of the Nation's response to the COVID-19 pandemic.
The Pandemic Response Accountability Committee (PRAC) was established as an independent oversight committee within the Council of the Inspectors General on Integrity and Efficiency (CIGIE) to ensure that the $2.2 trillion in CARES Act funds were not misspent. Thus, the PRAC faces unique challenges in fulfilling the mission it was assigned:
Promote transparency to the public on the government's coronavirus spending and the coronavirus response
Prevent and detect fraud, waste, abuse, and mismanagement of that spending
Mitigate major risks that cut across programs and agencies[1]
The public and policymakers demand, expect, and deserve timely reporting of potential risks and management concerns associated with pandemic response programs. In reconciling this assigned mission with the unique challenge of "expeditious reporting," the PRAC developed an "Agile Products Toolkit." The toolkit provides guidance to OIGs as they execute their responsibilities for oversight during the pandemic and potentially beyond.  "Agile Products" refer to the reports and advice that are developed by OIGs using the toolkit.  The toolkit provides OIGs with the suggestions and examples of timely and useful "agile products" – reports and analyses – they can use to assess pandemic-related expenditures in alignment with oversight standards. 
The National Academy of Public Administration's report, "Building an Agile Federal Government" (December 2020), recognized the need to create a strong link with the audit community.  It recommended that:
"Federal leaders throughout the government should engage the auditing community—including their Inspectors General, the Council of the Inspectors General on Integrity and Efficiency, and the Government Accountability Office—to get as much buy-in from them as possible on new agile approaches."
The PRAC's approach provides an important link between the general movement toward an agile federal government and the important specific function of oversight. It also offers a starting point for the engagement recommended in the NAPA report.
Using an Agile Product
The PRAC suggests four situations when development of an agile product could be indicated.
Urgent Risk Identification: Typically, a descriptive agile product will outline urgent risk areas for agency consideration based on prior OIG work. Examples include white papers, capstone reports, management advisory reports, or memoranda.
Information Sharing: A descriptive agile product will provide a status or snapshot of agency or program activities or funding that can be shared across organizations. These products are typically in the form of status reports, flash reports, and information memoranda.
Interim Assessment: Interim Assessments can be used to share information with stakeholders more quickly during a broad scope review, a targeted assessment of a large program, or a series of reviews. Stakeholders are thereby alerted to programs or activities that may merit additional or even immediate attention. Examples of interim assessments are management alerts, management advisory reports, memoranda, and interim reports.
Summarizing Lessons Learned: A descriptive agile product will outline lessons learned for agency consideration based on prior OIG work. These are often produced as white papers, capstone reports, management advisory reports, or memorandums.
Standards
Using the PRAC's toolkit, products developed using agile principles must comply with CIGIE Silver Book standards, but offices can also issue agile products using the GAO Yellow Book and the CIGIE Blue Book.  A statement of the standards used in preparing the report is recommended in all cases. 
Standards should stress:
Independence, including freedom from bias and undue influence, and exercising care not to take on the responsibilities of management;
Due Professional Care, including integrity, objectivity, and professional skepticism; and
Quality Assurance, ensuring that reports are accurate and supported by evidence.
Conclusion
The PRAC's effort to develop the Agile Products Toolkit, together with the experience of the OIGs who are using these tools, is an example of an application of the Agile Government Principles contained in the joint NAPA/IBM Center for the Business of Government Report, "The Road to Agile Government: Driving Change to Achieve Success" (November 2020).  These principles are designed to guide and support agencies implementing Agile Government and were developed over a year of discussion with practitioners, academics, and other experts in government management.  The principles were designed to be "living" and thus may be modified as new information, such as that contained in the PRAC's approach to agile oversight, is developed. 
To further enrich this discussion, members of the PRAC have been invited to meet with members of the Agile Government Network to discuss their approach and to begin a dialogue on how Agile Oversight can be an important part of implementing Agile Government. 
---
[1] https://www.pandemicoversight.gov/our-mission