Submitted by

cmasingo

on Wed, 12/20/2017 - 10:35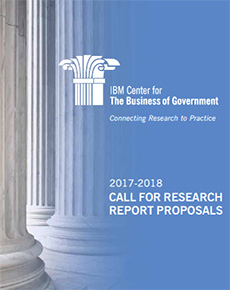 Thursday, December 14, 2017
The Center for The Business of Government continues to support research by recognized thought leaders on key public management issues facing government executives today
We are pleased to announce our latest round of awards for new reports on key public sector challenges, which respond to priorities identified in the Center's research agenda(for more detail on these priorities, see "Seven Drivers Transforming Government"). Our content is intended to stimulate and accelerate the production of practical research that benefits government leaders and managers.
We expect the following reports to be published in late 2018. Short summaries of each report follow.
What Do Contract Managers Do, and How Can We Do It Better? by Steven Kelman, Harvard University
This report will focus on contracting in general and post-award contract management in particular as it relates to government effectiveness. The author will assess the state of practice for post-award contract management in the federal government, and how pre-award decisions can help establish contracts for effective post-award implementation. The report will describe what contract managers actually do to improve performance, how much attention is given to post-award management at large procuring agencies, what management approaches work best, and how emerging technologies and agile techniques can enhance contract management in the future.
Dynamic Government: Adopting Agile to Enhance Successful Public Projects by Sukumar Ganapati, Florida International University
This report will analyze how agile methodologies make state and local government agencies more dynamic and responsive in the digital era. Drawing on agile, the author will build out a concept of a dynamic government that emphasizes bureaucratic empowerment, citizen engagement, process streamlining, acquisition strategy, and flexible structures for successful project implementations. State, county, and city governments that have implemented agile practices will be used as case studies for developing lessons learned and best practices.
Can the Department of Homeland Security have Risk-Based Budgets? by Benjamin H. Friedman, MIT and Laura Peterson, Project on Government Oversight
This report will assess the Department of Homeland Security's (DHS) progress in linking its budgeting to risk assessment, as part of the larger context of overall government risk management strategies. The report will first examine how DHS's risk-assessment methodologies impact budget planning, building on previous research and through close examination of two areas: border security and preparedness grants. Second, the report will consider obstacles to risk-based budgets, such as external or political drivers. Third, drawing on the experiences of other agencies and the Department of Defense, the research will offer potential solutions to these obstacles to risk-based budgeting for governments going forward.
Data Analytics: Creating a Pathway from Buzzwords to Results by Jane Wiseman, Institute for Excellence in Government
The past few years have witnessed increasing "buzz" around the appointments of Chief Data Officers, Chief Innovation Officers, Chief Digital Officers, and the like. As their ranks grow, few roadmaps exist to help these leaders successfully execute their missions and work together to support a mutual ecosystem of excellence in data-driven organizations. This report will document the current organizational context around data programs across non-defense federal agencies, will profile four cases of excellence in using analytics to turn data into insight, and will add relevant global perspectives.  The author will propose a framework for how agencies can optimize effectiveness, and their likelihood of successful program outcomes, when creating these data leadership positions and building data-driven organizations.
Lessons on Effective Fraud Unit Practices: Evidence from Medicaid Fraud Control Units by Victoria Perez and Coady Wing, Indiana University
This report will provide the first comprehensive analysis on the effectiveness of strategies used by the Medicaid Fraud Control Units (MFCUs) to minimize fraud and maximize revenue recovery. The authors will also address how innovative strategies and tools can enable Medicaid and other programs to address this important issue, including through facilitating more use of predictive analytics to prevent fraud before it occurs.   The authors will develop two sets of results for public managers of agencies to help balance the dual objectives of fraud units: revenue maximization and fraud minimization.   
Catalyzing Access to Medicines by Emulating Value Chains of Fast-Moving Consumer Goods by Steve Evans and Paulo Savaget, University of Cambridge
Governments in developing countries have often struggled to deliver medicines in remote areas of the world. Emulating value chains of fast-moving consumer goods for over-the-counter public health products has improved the uptake of life-saving medicines. This research will combine qualitative and quantitative data from projects pioneered in Zambia and similar projects elsewhere -- and supported by governmental/intergovernmental agencies such as DfID(UK), Zambian Ministry of Health, USAID and UNICEF -- to identify contextual preconditions and provide a roadmap of how governments can innovate to tackle pressing health challenges.  The report will also identify emerging innovations such as blockchain to enhance supply chains and contribute to value chain outcomes, with lessons learned for public health as well as other global supply chains.
Using Design Thinking in Government by Jeanne M Liedtka and Randy Saltzman, University of Virginia
Design thinking can equip government leaders with innovative approaches to address contemporary challenges. Design thinking seeks to stimulate creative thinking within the decision-making process and accelerate the synthesis of increasingly effective and efficient solutions. This report will examine the key components of design thinking, describe how design thinking works, present the challenges to realizing the benefits of design thinking, examine several global case studies of government use of design thinking, and offer best practices and lessons learned.