Submitted by

rgordon

on Fri, 10/07/2022 - 08:11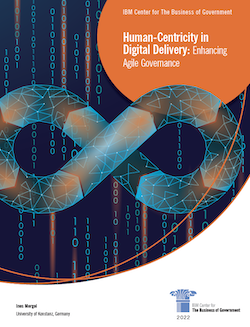 A new report form the IBM Center provides actionable insights for bridging the divide between the public and the public sector.
With guest blogger, Brian W. Murphy, Partner, IBM iX-Customer Transformation, Federal Service Line Leader
"Human centricity" in program and technology design and operations  can help to transform digital service delivery in a way that improves government agility, with results that address principles, mindsets, techniques, and practices.  User-focused agile principles have been adapted in the work of the Agile Government Network, hosted by the National Academy of Public Administration: "Customers should be intimately involved in design and redesign of the program and a focus on the customer journey should be ingrained in the culture of the organization.
In a new report from the IBM Center, Human Centricity in Digital Delivery:  Enhancing Agile Governance, author Ines Mergel – Professor of Digital Governance and Public Administration at the University of Konstanz, Germany and a Fellow with the National Academy of Public Administration -- discusses how digital service teams are embracing human centricity by bringing "service designers" into government to transform service delivery. These designers use human-centered design approaches to help public sector organizations refine strategies, rethink the nature of services, and reflect the way that citizens want to use a public service.
This report first provides an evidence-based overview of the core concept of user-centricity, and why it matters in the public sector, then elaborates on how government leaders can support a human-centric mindset and operations.  Professor Mergel outlines how all members of digital transformation projects can move toward a user-centric mindset by applying the methods and tools of design thinking and agile governance.
The report makes recommendations to help governments to work together and with external partners to build competencies for redesigning public services in a way that benefits the users of those services. Key priority actions include:
• Start with small steps to experience what the increase in inclusion and participation feels like. • Closely look at the types of problems to solve as part of the digital transformation of public services.
• Include managers both in the educational experience as well as in the actual doing. • Collect data from users.
• Review and check hypotheses based on user data.
• Act in the open if at all possible.
• Test prototypes with users.
This report builds on prior IBM Center reports focused on user experience, digital services, and agility written by Professor Mergel and other authors, including: Agile Government: The Role of Public Affairs Administration; Adopting Agile in State and Local Governments; The Road to Agile Government: Driving Change to Achieve Success; Agile Problem-Solving in Government: A Case Study of the Opportunity Project; Applying Design Thinking to Public Service Delivery; and Digital Services Teams: Challenges and Recommendations for Government. Mergel's work also complements current research and action emanating from the Agile Government Center, on which our Center partners with the National Academy of Public Administration.
We hope this report provides practical and actionable insights for government leaders to modernize their programs that serve the public.