Submitted by

rgordon

on Fri, 10/27/2023 - 17:15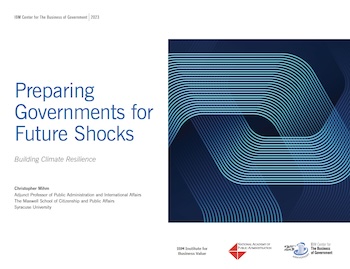 A new report highlights capabilities that the public sector leaders and stakeholders can take to strengthen sustainability.
The IBM Center for The Business of Government and the IBM Institute for Business Value, in partnership with the National Academy of Public Administration (NAPA) and a range of other partners, launched an initiative last year to help government leaders identify core capabilities critical to building resilience in the face of "future shocks," where collaborative action to address anticipated threats requires focus and cooperation across a broad ecosystem of partners and stakeholders. Over the past year, we convened a series of international roundtable discussions with global leaders from across the public, private, academic, and nonprofit sectors to capture lessons across multiple key domain areas.  On November 2, we will released the final report from this series at the National Academy's Fall meeting.
One of those domains addressed climate resilience, the subject of an expert roundtable that identified capabilities through which government leaders and stakeholders can move forward. The session addressed the overall sustainability challenge, as well as three major topics: the clean energy transition, sustainable development (including land management), and water management.
Insights from the session are captured in a new report, Preparing Governments for Future Shocks:  Building Climate Resilience, by Chris Mihm, released through the IBM Center.  This latest report in our "future shocks" series, addresses how governments can strengthen their capacity to support sustainability across government programs.  
The insights shared by experts who attended the roundtable point to six areas for action, by government leaders and stakeholders, each with specific steps, summarized below.
Strengthen capacity at the local level:

Work closely with local governments to understand specific capacity needs and how they can be met.
Build communities of practice to develop local expertise in resilience planning and implementation.
Share examples of successful local practices that have wider applicability, particularly in the use of local economic development incentives and zoning codes.
Build cross-boundary partnerships, especially at local and regional levels, to enhance knowledge, share experiences, and strengthen resilience:

Encourage regional collaboration that maps to cross-boundary climate risks.
Use data to identify collaboration opportunities to avoid duplicative efforts and pinpoint gaps.
Gather and share effective practice on collaborations, particularly on the models employed and use of dashboards to manage performance.
Foster public engagement with a focus on equity:

Center equity issues in resilience considerations.
Use stories and behavioral science insights to create communication strategies that build public understanding and support for action on resilience.
Create public engagement strategies that involve the public in all stages of resilience planning, decision making, and implementation.
Manage risks of climate change and leverage opportunities from strengthening resilience:

Widely share information on the methodologies, technology, and data used in risk management.
Fully consider the potential positive and negative spillover effects from resilience initiatives.
Develop case studies and guidance on how specifically to use the results of risk assessments to inform planning and guide decisions.
Invest in the green energy transition and climate resilience:

Reinforce mechanisms that connect specific local resilience funding needs to public and private sources.
Work with the private sector to understand how spending, tax policies, regulations, and government contracting can be used to incentivize private sector investments.
Budget for climate risk.
Enhance the Federal Government's vital role in leading and supporting the nation's resilience efforts.

Strengthen the federal capacity to support state and local resilience efforts.
Use waivers—with rigorous evaluation requirements—to drive change and generate innovative approaches.
Ensure that federal procurements foster resilience.
Reduce administrative burdens throughout the grants process.
Create multistate, regional grant programs, especially for watersheds.
We hope this report— which summarizes the six imperatives that emerged from the expert roundtable—provides government leaders and stakeholders with a practical and actionable roadmap to address this critically important issue.