Submitted by

rgordon

on Fri, 12/03/2021 - 13:17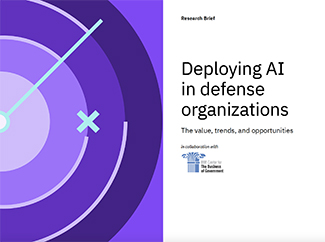 Artificial intelligence (AI) can improve defense organizations' mission and business operations, with a focus on addressing current challenges in scaling AI across organizations.
(Contributors:  Adam Gilbride, Associate Partner, IBM United Kingdom and Matt Warshaw, Director, US Government Centers, IBM)
To better understand the current state and future opportunities for AI in defence specifically, IBM's Institute for Business Value (IBV) recently surveyed 250 technology leaders from global defence organisations. The findings showed that while a majority of defense organisations (59%) had a formal AI strategy, most were at a piloting or implementing stage, with 16% at an operating stage and only 4% in the process of optimizing. The study also found that leaders believe AI can drive the greatest value to mission operations in processing intelligence, surveillance, and reconnaissance (ISR), and the greatest value to business operations in improving information security.
The research identified several challenges defence organisations are facing in scaling AI:
Organisations lack the culture and talent to move quickly, relying heavily on the private sector for expertise
Enterprise datasets are not 'AI-ready' - data is locked into legacy application
Non-traditional defence industry partners (i.e. startups, academia) must be brought into the process
In March 2021, the IBM Center for The Business of Government held the first of two roundtables to dive deeper into these findings. Session participants discussed how AI-enabled solutions are being leveraged around the world, and how this technology will shape the defense industry and military operations in future.  The session resulted in this report from the Center and the IBV.
In early November, the Center was honored to host a follow-up discussion featuring leaders from the US Department of Defense's Joint AI Center (JAIC), leaders from defense agencies in Canada and the United Kingdom, NATO's Exploiting Data Science and AI team, the Atlantic Council, and Center for Strategic and International Studies (CSIS). The group engaged in an interactive exchange about the challenges that face defense organisations in leveraging AI and how they can address those challenges, and how defense organizations can collaborate with the AI ecosystem.
The discussion highlighted the need for up-to-the minute data, with outdated datasets of diminishing value. Roundtable participants found that ethical implementation of AI will continue to be crucial to maintain credibility with the public. Lastly, the discussion highlighted the import of embedding AI as widely as possible, even if light touch to start. As the roundtable agreed: some capability in the hands of many can have greater value than much capability in the hands of a few.
Additional discussion points included:
Defense organizations can struggle to embrace the cultural shift needed for successful adoption of AI, but the natural competition that exists between them can be leveraged as 'collaboration competition' to further collective efforts.
Enterprise datasets might not be 'AI-ready' because much data is locked into legacy applications, making the data hard to unlock for AI purposes.
Defense organizations depend heavily on the private sector for analytics and AI expertise and capability. While Defense agencies know the issues involved with their edge sensors and, operational skills often come from industry.
Cross-sector fertilization can be enhanced by encouraging the military to partner with non-traditional suppliers, like startups.
Barriers to piloting emerging technologies from non-standard industry and academic partners to better inform the requirements of defense need to be lowered.
Regulatory and policy constraints and the availability of technology are perceived as top barriers by leaders, and organizational monopolies don't create a sense of urgency.
Key attributes as a future state center around AI becoming part of the culture - investing in AI and adopting a team sport ethos.
Further analysis on this topic will be shared in a forthcoming Research Brief from the IBM IBV, ahead of IBM's annual SPADE conference.