Submitted by

rgordon

on Fri, 01/08/2021 - 11:05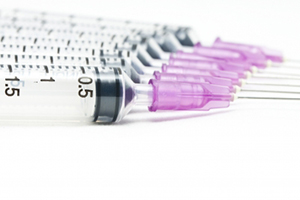 We are about a year into the COVID-19 pandemic, and we can just now begin to see the light at the end of the tunnel.
Blog Author:  Hannah Frey, IBM Client Executive, City of New York, IBM Global Markets
Blog Contributor:  Tim Paydos, Vice President & General Manager, Government Industry, IBM Global Markets
We now know much more about the virus, and the science of medicine has made great strides both in treating infection and preventive vaccines. However, developing and manufacturing a vaccine does not mean that we are yet out of the woods.
The biggest challenge lies ahead—specifically, distributing the vaccine across the globe both safely and efficiently, and that people feel comfortable accepting the shot. At the end of the day, this comes down to trust: Do I, as an individual, trust that the shot placed in my arm is both authentic, and safe?
Vaccine distribution is logistically challenging and must be executed with care and precision. If not done right, it is vulnerable to bad actors and financial waste. Distribution requires a stable and effective government, as well as extensive planning and coordination.
According to the World Health Organization, a well-managed program "can help save on program costs in ensuring program implementation efficiently without sacrificing the quality of service delivery. Poorly managed logistics systems can lead to high and/or unnecessary vaccine wastage rates, stock outs, or improper management of waste, resulting in significant operational program costs, as well as a negative impact on public health."
Stable and effective government rose to the challenge at the height of the pandemic. Stable and effective government built new hospitals in record time, and provisioned and delivered hundreds of thousands of iPads to students who did not have access to Wi-Fi.
A stable and effective government can't stop here. The biggest task lies ahead.
We have a vaccine. The fastest ever developed, using the latest mRNA technology, manufactured at high-speed and scale. Millions of doses are already available. A near-impossible feat, achieved. A groundbreaking vaccine should be rolled out using the best technology the private sector has to offer.
Government leaders are currently grappling with many questions:
Which groups should be prioritized?
How will the vaccine be administered?
How will the second dose be tracked?
How can we jumpstart the economy through safe "return to work" rules and practices?
We have been collaborating with many government clients, and here's what we have learned about what is required to manage a vaccine rollout, from inception to injection:
1. Planning
Each jurisdiction will need to plan how to distribute the vaccine to their population—whether it's 200,000 or 8 million people—and also how to certify vaccinations. Meticulous planning is key, and technology should be at the core of building trust.
The CIO and CTO will be essential in planning. Plans should consider supply chain management, security, mobility and most importantly, the underlying data sharing architecture. Each dose has to be tracked and data needs to be securely shared and easily referenced (vaccine manufacturer, batch number and date of vaccination). Government officials should leverage inventory management, enabling data insights and forecasting to make vaccine inventory decisions. Critical to all of this is an underlying data sharing platform (such as an existing blockchain network) that regulators, governments, manufacturers, distributors and consumers can view and trace the vaccine management lifecycle.
2. Secure distribution
Recently uncovered was a sophisticated spear-phishing campaign targeted at the COVID-19 vaccine supply chain. Clearly, cybersecurity must be at the heart of planning and execution.
How can governments do this?
Understand risk: Vulnerabilities can occur at any point in the supply chain. Knowing you are protected at each point of the process is key to managing risk.
Test: Every step of the cold supply chain should be tested for security vulnerabilities. Hire threat hunters and "ethical hackers" to find weaknesses, and then secure them before a malicious actor can exploit it.
Plan: Establish shared security policies, standards and processes for a potential breach. Be prepared for an incident and ensure you have access to 24x7 incident response. This type of partnership provides access to top security experts in a dire time of need.
Do not skimp on investing in cybersecurity. It can be the difference between a smooth rollout and a very disruptive, expensive crisis. Given the massive complexity of the vaccine distribution network, however, there can no guarantee that all cyberattacks will be detected and mitigated. This is why an underlying blockchain-based data sharing platform is so critical—it can assure both the people and the government that the shot at the point of injection both is authentic, and has been safely and handled throughout distribution.
3. Certification
As schools, sporting arenas and workplaces start to reopen, they may require health records verifying test or inoculation status. Having a digital health pass becomes essential. This digital pass cannot be one-size-fits-all, as organizations, universities and public entities may have different criteria for returning to work or school.
According to a recent New York Times article, "The advent of electronic vaccination credentials could have a profound effect on efforts to control the coronavirus and restore the economy."
Providing digital vaccination information to consumers and allowing them to leverage this for their workplaces, schools, and other locations will propel a safe and swift workforce re-entry, and help revive the global economy. Consider partnering with a technology organization that has experience with HIPAA, data protection, privacy, and identity management.
4. Population analytics
Finally, it will be crucial to provide visibility to people on how the vaccine rollout is progressing. Similar to how state and local governments have provided data and visualizations on virus cases and deaths, governments should be closely tracking vaccinations. In order to do this, governments need a robust data management platform with clean, real-time data. Be sure the collection of public health data and visibility to the public is part of planning and execution.
In order to safely re-open our economy and rebuild from the pandemic, people must develop a level of trust that when they venture outside their homes to go to work, attend a sporting event, or eat out, they are safe from infection. Reaching critical mass in vaccination is critical, and it all comes down to trust in the vaccine. This is why building a distribution capability that is founded on information-sharing, with security at the core, is so important. People need to feel confident that the vaccine going into their arm is authentic and safe.
Endnotes