Submitted by

rgordon

on Wed, 03/20/2019 - 15:42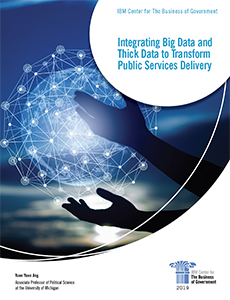 A new report highlights how agencies can deepen the collection and analysis of big data to improve service delivery.
Organizations and researchers across the private and public sectors have learned much from advances in the use of analytics to assess a vast and growing volume of information. "Big data" enables understanding of patterns and anomalies with far greater speed and accuracy, and has been used to help government make more informed decisions in areas ranging from social service delivery to global threats. Yet while big data has been the source of significant advances, its very nature does not capture deep context about the people and places who benefit from the actions taken based on the analysis of big data.
A report released today from the IBM Center for The Business of Government, Integrating Big Data and Thick Data to Transform Public Service Delivery, offers a new framework to enhance the government's ability to leverage big data for social and economic good by integrating the concept of "thick data."  The report's author, Yuen Yuen Ang, Associate Professor of Political Science at the University of Michigan, defines thick data as "rich qualitative information about users, such as their values, goals, and consumption behavior, obtained by observing or interacting with them in their daily lives."
The author reviews the differing strengths and limits of big and thick data, and suggests that governments can improve results by combining the breadth of big data with the depth of thick data—an integrative approach that she calls "mixed analytics," which can increase accuracy in interpreting big data by adding contextual knowledge about citizen concerns.
The report uses three case studies to illustrate how mixed analytics can help improve decision-making that affects the daily lives of citizens across the public sector, at the local, national, and international levels:
The World Bank Social Observatory's p-tracking (participatory tracking) project among 32,000 village residents in India.
The USDA Animal and Plant Health Inspection Service's tailored social marketing campaign.
The LA Express Park program, featuring dynamic pricing, in downtown Los Angeles.
As Professor Ang notes, "These case studies show that mixed analytics can help public institutions increase citizen engagement, tailor messages to differentiated audiences, and ensure that services truly reach and benefit citizens."
The report concludes with a set of lessons learned and recommendations for government leaders.   Specific lessons learned include the fact that big data is a means to an end that can be informed by thick data, rather than an end itself; thick data can identify unexpected problems or previously unexpressed needs; and mixed analytics can offer both scale and depth.
The report makes five actionable recommendations for government managers in applying mixed analytics to improve service delivery:
1.         Make data and technology relevant to the people who use it.
2.         Leverage thick data at appropriate stages of the problem-solving process.
3.         Build an interdisciplinary team of quantitative and qualitative experts who work closely with stakeholders.
4.         Combine big and thick data to improve communication.
5.         Improve government agencies' knowledge of mixed research methods.
At a time when the US and other governments continue to enhance their use of data as a strategic asset for transformation, we hope that Professor Ang's report provides useful insights for government managers and stakeholders.