Submitted by

rgordon

on Wed, 06/02/2021 - 11:12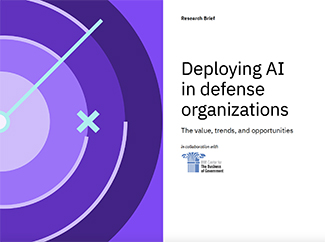 Insights from government leaders and expert demonstrate that the promise of artificial intelligence for mission support and performance across the defense sector.
Artificial intelligence (AI) has radically redefined many aspects of everyday life. Organizations across both the public and private sectors are exploiting AI for a wide array of applications. For defense organizations, AI solutions also present significant opportunities to improve mission effectiveness.  This is the subject of a new report released today by the IBM Center for The Business of Government and the IBM Institute for Business Value, Deploying AI in Defense Organizations.
The report draws insights from a recent survey of 250 defense technology leaders from around the world to understand how defense organizations are using AI and how this technology will shape military operations going forward. In addition, the report incorporates perspectives from roundtable of global defense experts, who provided input and context; we gratefully acknowledge the contributions of all participants.
This report highlights insights from this research on the state of AI planning and adoption across defense organizations, as well as participants' perspectives on where AI can drive value.  Specifically, AI has the potential to help defense organizations transform operations across mission areas and around the world. From rapidly analyzing terabytes of data in intelligence reports, to allowing commanders to make faster and more informed decisions, to helping identify veterans at risk of suicide, the value of AI to national defense is enormous.
The report concludes with several recommendations for defense organizations to deploy AI effectively.
Build awareness and understanding. While computing capabilities and limits continue to evolve, fundamental success factors seldom change. In terms of system implementation and user interaction, AI-enabled systems differ from traditional systems. Defense organizations often experience a learning curve as they determine how to best apply this new capability. Leaders with experience in using AI can help to bend that curve, as will building a cadre of employees with AI knowledge and expertise.
Explore a wide range of opportunities. As organizations explore opportunities to leverage AI, they can take a broad view that includes combat support and combat service support applications. As one global defense leader explained, "90% of the valuable applications [of AI] are outside the firing line." For example, HR management and maintenance operations are two areas where AI can provide value.
Prepare the organization for the journey to AI.  Realizing the potential benefits from AI involves a journey—and that journey will evolve over time, needing to be constantly reinforced within the organization. An active change management plan would enable success for organizational strategies for leveraging AI, one that also increases awareness at all organizational levels around digital transformation and new and emerging technologies.
The expert roundtable participants also placed particular importance on developing and educating current and future leaders, and on focused education and awareness campaigns to boost digital proficiency. For example, future military leaders at US service academies are being engaged to define system needs in 5 to 10 years, when these individuals will help lead defense organizations.
We hope this report will add to current and future leaders' digital knowledge, and help further their efforts to use AI to advance the critical-mission objectives of defense organizations globally. Stay tuned for future reports, where Dave Zaharchuk, Leendert van Bochoven and myself will explore more insights on how defense organizations can leverage AI for mission success.