Submitted by

rgordon

on Mon, 09/23/2019 - 10:12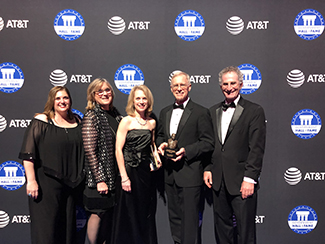 Monday, September 23, 2019
The annual awards highlight significant, lasting achievements by government's cross-sector partners in helping federal officials meet mission goals.
John Kamensky, Senior Fellow with the IBM Center for The Business of Government and an Associate Partner with IBM's Global Business Services, was awarded the Theodore Roosevelt Government Leadership Award at the Government Executive award ceremony on Thursday, September 19, 2019.
The inaugural event honored John along with 14 other awardees of the Theodore Roosevelt Leadership Awards, which will annually honor a team of distinguished federal managers and executives and industry leaders for outstanding achievement in delivering on government's promise. Eighteen leaders were also inducted into a Government Hall of Fame, which included former Secretary of State Colin Powell; long-time civil servant Dwight Ink; former Health and Human Services Secretary and Rep. Donna Shalala, D-Fla.; and of course President Theodore Roosevelt.
During his 24 years of service in government, John played a significant role in helping pioneer the federal government's performance and results orientation. Prior to joining the IBM Center, he served for eight years as deputy director of Vice President Al Gore's National Partnership for Reinventing Government. Before that, John worked at the Government Accountability Office, where he played a key part in the development and passage of the 1993 Government Performance and Results Act.
With the IBM Center, John has co-edited several books, magazine articles, and hundreds of blogs. He writes and speaks extensively on performance management and government reform. Areas where he oversees research include improving government performance, developing performance-based methods for managing, improving customer service, and using collaborative tools to get work done. John is also an active fellow of the National Academy of Public Administration and a public member of the Administrative Conference of the United States.
We are proud to have John as a colleague and congratulate him on an well-deserved award!