Leading NASA's Space Technology Research: Insights from Dr. Bobby Braun, NASA Chief Technologist
Submitted by

rthomas

on Fri, 12/22/2017 - 14:40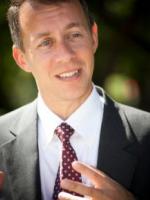 Wednesday, January 19, 2011
"I think to be a good leader today requires the ability to integrate. It's about integrating knowledge from disparate fields, learning from that knowledge, and applying it to new problems."
Cutting edge technology and innovation is more important today than ever before, as NASA develops missions of increasing complexity to understand the Earth, our solar system, and the universe. We spoke with Dr. Bobby Braun, Chief Technologist at NASA, who was a guest on The Business of Government Hour about NASA's space technology program, its focus on research and development, forging disruptive innovation, and making a difference for the future. I share with you some of his insights from our conversation. 
On Leading the Charge of the Space Technology Progra
m
Dr. Bobby Braun: In the past decade, NASA's research and technology investments have been reduced as the agency has become more and more mission focused. The Obama administration and the NASA Administrator want to rebuild the research and technology competency, so they created the Office of the Chief Technologist to lead that charge. We have two major functions. We're responsible for integrating the technology investments across the agency and across the Mission Directorates at NASA, to ensure that we're doing things in a coordinated and integrated fashion. We're also responsible for managing a new budget line in the President's Budget Request for 2011, for the Space Technology Program. While subject to Appropriations deliberations, in the president's request, it's about $572 million for 2011, and about $5 billion over a five-year period. 
 I'm  Administrator Bolden's advisor in all technology matters across the agency. Technology is a part of everything we do at NASA, whether we're talking about aeronautics, science, or exploration. I'm in all of the major policy meetings. I take more of a strategic view for the future of the agency and the importance of technology in that future. Secondly, I'm managing the new Space Technology Program. It is focused on long-term investments. We are investing in a portfolio of technologies that are broadly applicable. These are technologies that could affect not the next science mission or the next exploration mission, but a suite of missions five or 10 years from now. We're building on the lessons learned from organizations like the U.S. Defense Advanced Research Projects Agency (DARPA) and the Advanced Research Projects Agency–Energy (ARPA–E). We're applying this model within NASA, really for the first time. It's very exciting.
On Challenges Facing NASA's Chief Technologist
Dr. Bobby Braun: My number one challenge is to break through some cultural barriers and improve the pace of innovation—to take, frankly, a little more risk and bring NASA back to being a cutting edge agency, as it was in the 1960s. The capability is within us. We just have to pull it out and get motivated. The second challenge is budgetary and external. It is about building our relationships with Congress. If we're talking about technology development, we're not talking about something that's going to be produced tomorrow. We're talking about visions of the future. What's NASA going to be like a decade from now? What are we going to be doing in aeronautics or in space two decades from now? That is a very interesting challenge for Congress to wrestle with, so there's much communication and relationship building needed there. The third biggest challenge is prioritization and selection from the many wonderful ideas that have been flowing into my office. There are a tremendous number of great ideas and many of them will influence NASA's future missions— not just NASA's missions, but the missions of other government agencies, and society as well. It is a great challenge to sort through all that data and to prioritize with the limited funding we have. We need to select just the right portfolio of technological investments for our future.
On Cultivating a Risk Tolerant Environment
Dr. Bobby Braun: This is incredibly important to what we're doing. What does acceptable risk mean to a technology development program? This is part of the cultu
ral challenge I mentioned. We need to have a tiered-risk acceptance approach in NASA. Certainly, in our human space flight programs, we need to take every precaution and prioritize safety. Failure is not an option for human space flight. However, as we go to smaller missions and move into technology development, we certainly need to take more risks. Unless we take risks, we won't be developing game changing innovations. The only way I know to innovate is to take risks. With risk comes a higher probability of failure. With the Space Technology Program, we're saying straight up that we are going to fail. What's important is that when we fail, we fail forward and learn from that experience. When we succeed, we succeed in such a manner that a disruptive technology comes inand we skip a couple of steps along the way. That's the model that we're shooting for, and it will only occur if we take some risks.
Listen to: The Business of Government Hour Interview with Dr. Bobby Braun 
Read more of Dr. Braun's insights in their entirety: Dr. Bobby Braun
You can also view his excellent TEDx talk at TEDx Bobby Braun - Our Generation's Space Race