Leading the U.S. Government Accountability Office: Insights from Gene Dodaro, Comptroller General
Submitted by

sfreidus

on Tue, 01/02/2018 - 16:00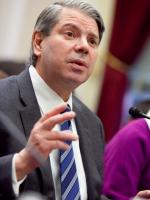 Wednesday, February 29, 2012
How is GAO working to help put the country back on a sustainable fiscal path? What is GAO doing to assist Congress in support of its oversight of decision making responsibilities? How is GAO overseeing federal programs and operations to ensure
accountability to the American people? Last month, Comptroller General Gene Dodaro joined me on The Business of Government Hour to explore these questions and so much more. Here are some insights from this discussion:
Setting priorities – Our number one challenge is focusing on the right priorities. It is very important for us to work on the areas of highest priority for the Congress – focusing on the most important national issues.  Our workload is a very important challenge. We're asked to do anywhere from 900 to 1,000 annual requests from the Congress, so we obviously have to set priorities appropriately.  I do this by meeting with chair and ranking members of all the standing committees of the Congress to understand their priorities and work on specific issues; it's very important that while I provide leadership, our GAO teams must continually work with the Congress to make sure that we meet their needs.
Budget -- Like all federal agencies, there are budgetary challenges we're facing.  We're working through those issues very carefully to make sure that we maintain the quality of our work to the Congress, work on items of highest priority, and also to make sure that we're minimizing any adverse effects on the very dedicated and talented GAO workforce.
Succession planning - Thirdly, Michael, I would say a big challenge is succession planning, like lot of organizations the Baby Boom generation is beginning to retire.  We've been working very hard on this over the last decade and we'll continue. We need to have the right, skilled workforce; we need to have the people in the right job.  That's about 75% of success, and so I spend a lot of time dealing with the succession planning  challenge.
On Fiscal Sustainability
The Warning - This is a very important issue.  For years GAO has done long-range simulations of the federal government's fiscal path in order to illustrate what the long-term affects may be of policy decisions.  Even before this last recession we warned that the federal government was increasingly on an unsustainable fiscal path that the accumulating deficits and debt were significant.  Obviously, with the last recession, the government's policy response added to its debt burden, as well.  While necessary to deal with the short-term issues, it created other long-term issues that need to be dealt with.
Changing demographics - Now the long-term fiscal position of the federal government is really being driven by changing demographics -- the aging of our society, more people access Social Security as well as Medicare and Medicaid.  The first of the Baby Boomers became eligible for Social Security in 2008.  2011 also marked their first year of eligibility for the Medicare program. This demographic shift will hit these entitlement programs over the next few years, so these issues will be even more prevalent.  
Budget Control Act of 2011 - However, the Budget Control Act of 2011 has sought to improve the current situation, calling for $2.1 trillion of cuts between 2013 and 2021; if accomplished, these cuts will help improve the situation. The Budget Control Act also provided a backup should the Super Committee not reach consensus and move the legislative package to the Congress -- that's a $1.2 trillion sequestration or changes in the caps over the next 10 years.  These cuts will go forward, but obviously there are many implementation issues associated with them. Congress always has the flexibility to deal with these matters. We will continue to do our long-range simulations and help support the Congress in making difficult resource tradeoff decisions, try to identify ways to save money, to enhance revenues, and to help them evaluate policy options for dealing with these long-term fiscal issues.
On Public Service
Public service is a tremendous way to give back to your country.  It's the reason that I was drawn to the federal government many years ago.  It's why I've stayed in the federal government.  It's a very rewarding career; people should think about pursuing a career in public service at any point in their career, whether they start out in an entry level position or come in as a mid-career manager or senior manager in government.
We're only as good as those who serve the country. We need to do the best we can to make sure we have the strongest country possible that we remain economically strong and can deliver to all of our democratic institutions in a way that well serves the American public, not only now but well into the future.
You can access the complete program and listen to my entire conversation with Comptroller General Gene Dodaro at The Business of Government Hour –Interview with Gene Dodaro.
You can listen to The Business of Government Hour every Monday at 11 a.m., Wednesday at Noon, and Friday, at 2 p.m. on Federal News Radio 1500AM WFED.
0 comments