Submitted by

cmasingo

on Thu, 12/21/2017 - 14:14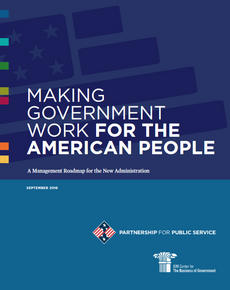 The President's Budget proposal, unveiled earlier this month, includes a series of initiatives on the management of the federal government.
Blog Co-Author: Haynes Cooney Senior Managing Consultant at IBM Global Business Services
If implemented effectively, these initiatives could result improved efficiency and effectiveness of the federal agencies, and smarter use of taxpayer dollars.
The management section outlines a series of ideas focused on the "what" and "how" of government.
The "what" initiative emphasizes rethinking and transforming government functions in and across agencies. The "how" initiative outlines a series of principles for how the government will operate that are rooted in bipartisan management experience across multiple administrations. It identifies goals that include:
Using an evidence-based approach to hold government managers accountable
Sharing and adopting leading practices from the private and public sectors
Employing critical performance metrics.
Furthermore, the management blueprint indicates that these leading practices should be applied to procurement, hiring, real property, financial management and technology.
Earlier this week, the president also announced the establishment of a White House Office of American Innovation, which will be tasked with crafting ideas to reshape federal agencies and bring innovative ideas from the private sector to government. Implemented effectively as a collaborative public-private sector effort, best business practices can indeed help government bring large-scale change across agencies – for example, by taking shared services to scale, using analytics to reduce fraud and promoting efficient technologies like cross-agency cloud platforms.
These proposals align closely with the recommendations made in "Making Government Work for the American People: A Management Roadmap for the New Administration", released in September 2016 by the Partnership for Public Service and the IBM Center for The Business of Government.
The roadmap outlines steps in four areas that can help increase effectiveness of management reforms:
Leverage the Government's Executive Talent: Appoint skilled and capable leaders who have strong management skills and can work together with career government executives, the very talented federal workforce and multiple agencies and stakeholders.
Treat Government as an Integrated Enterprise:None of today's critical challenges, from food safety to cybersecurity, can be solved by any single agency acting alone. With increasing frequency, serving the public demands interagency coordination - using the resources and expertise of multiple agencies to achieve a common goal.
Harness the Power of Innovation: Ensure public servants have the skills, tools, and support to innovate and use data and technology to drive improved service and outcomes, leveraging innovation from public and private sector entrepreneurs.
Organize Decision-Making to Achieve Results: Define a clear approach to decision-making that covers a range of decisions and situations, leverages and expands capacity for evidence-based analysis and uses regular evidence-based reviews to drive implementation of priorities.
The nation benefits from a well-run government that serves and protects the public good. An effective management agenda is a promising step in that direction.