Submitted by

MKeegan

on Mon, 11/22/2021 - 14:30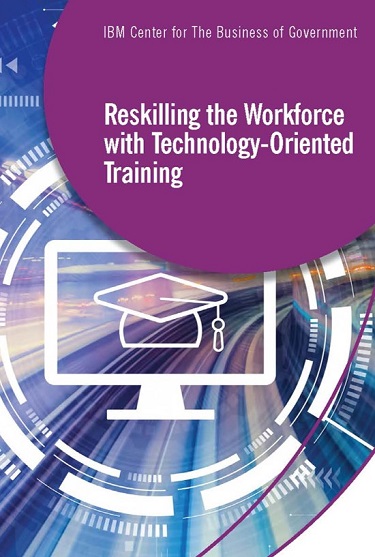 Monday, November 22, 2021
Government agencies need to address the ever-growing information technology skills gap in their workforce by reskilling employees
Government agencies are increasingly expected to provide more and higher levels of services for citizens with fewer resources. This difficult balancing act requires that government executives maximize the effectiveness of agency transformation efforts.  Government agencies use technology to increase the efficiency of their services, but rapid changes in technology create a need for additional training to help the workforce remain current in their knowledge and application of new innovations.
There are many reasons why agencies may encourage their employees to attend technology-ori­ented training programs. Some technology-oriented training programs teach employees how to use specific information technologies consistent with their role within an agency. These pro­grams are often focused on upskilling employees, providing new knowledge and skills to sup­port employees in their current role.  Other training programs reskill employees by teaching technology-oriented skills to prepare them for new roles in the same or different agencies. Employees attending technology-oriented reskilling training programs must learn new uses and applications of information technology that often lead to new work roles within the agency. This new IBM Center report, Reskilling the Workforce with Technology-Oriented Training, focuses specifically on technology-oriented training programs that seek to reskill employ­ees for new roles within the organization. Reskilling technology-oriented training programs have outcomes that are different from programs seeking to upskill employees.
Address ever-growing information technology skills gap. Professors Petter and Giddens, authors of this IBM Center report, note that as organizational roles evolve and require new skills and knowledge, government agencies need to address the ever-growing information technology skills gap in their workforce. One way to address the skills gap involves technology-oriented training programs. These programs enable individuals to learn new skills about systems and applications to solve problems in new or evolving organizational roles. The authors assess two technology-oriented training programs in which organizations set out to reskill members of a workforce with technical skills needed to conduct their jobs effectively or move into new roles. The report defines effective technology-oriented training as a transfer of technical, functional, and contextual knowledge to the workplace after training. The case studies are the DeliverFund's Counter Human Trafficking Intelligence Operations Course and Federal Cyber Reskilling Academy. Each program uses a range of methods and components to deliver technology-oriented training to employees. The authors outline the benefits and limitations of each program as to their ability to facilitate the transfer of training. For any training to be effective, employees must transfer the skills and knowledge learned during training to their respective agencies and work processes.
Factors Affecting Training Transfer. Several factors influence an employee's ability to transfer knowledge and skills learned during training.Broadly speaking, the transfer of training knowledge to the workplace is affected by the employee's personal characteristics, training design and delivery, and the work environ­ment. The table below summarizes some of the factors that influence the transfer of training, which is a critical outcome expected from any training program.
Petter and Giddens acknowledge that government agencies seeking to increase their staffs' technology-oriented skill sets can expect to face challenges as they seek to achieve effective training outcomes. However, their research indicates that organizations can achieve more positive outcomes from technology-oriented training when seeking to reskill their workforce.
Three distinct training components. Technology-oriented training programs dedicated to the reskilling of the workforce include three distinct training components:
Technical training teaches specific, systematic instructions on how to use a technology or information system. Technical training includes not only step-by-step instructions to perform tasks using the technology, but also instructs trainees on new skills, concepts, and processes that accompany the technology.
Functional knowledge training teaches skills that transfer to a variety of contexts and organi­zational roles. These skills can include general knowledge such as general technical, commu­nication, or leadership knowledge and skills. Functional knowledge is transferable across job roles. Employees who need reskilling typically possess some level of functional knowledge related to using and managing new technology, but often need additional functional knowl­edge as they increase their technical knowledge and shift into new organizational roles.
The final component of technology-oriented training is instruction to increase contextual knowledge.In contrast to functional knowledge, which is applicable across contexts and environments, contextual knowledge is specific to a particular context or problem.
To explain the interaction of these components, Petter and Giddens consider a training program to reskill employees on the use of data science to gather, analyze, and interpret data to inform decision-making. A purely technical training program to upskill employees might teach trainees how to import data, analyze the data using a clustering feature, and create reports within a statistical software package. A reskilling technology-oriented training program would not only provide technical training, but also it would offer additional instructional components. The training would include a functional knowledge training component with lessons on statistics, data visualization techniques, and data governance. Contextual knowledge training would include training on industry standards, best practices, and applying the technical and func­tional data science knowledge gained during training to specific organizational contexts. It is the combination of the three elements of technology-oriented training that provide a holistic training experience for employees who need reskilling.
Recommendations.  Based on the lessons learned from the two case studies highlighted in this report, ten recommendations are offered to gov­ernment leaders seeking to achieve effective technology-oriented training outcomes for reskilling their workforce. The following provides a synopsis of those recommendations.
Selecting Individuals for Technology-Oriented Training
Choose employees who exhibit technology engagement. Employees attending technology-oriented training that demonstrate an interest in technology are more likely to be engaged during training, apply the lessons learned in their day-today work, and will find innovative uses for technology to transform the organization.
Identify employees that have an expressed need or motivation for technology-oriented training. Employees who are interested in participating in reskilling training programs, par­ticularly because the training program is aligned with the employees' goals, are more likely to result in applying the knowledge and skills gained during training within the workplace.
Prioritize aptitude over experience. It is vital for government agencies to reskill employees for positions in new roles and disciplines as the workforce evolves in the twenty-first cen­tury.Identifying individuals with a cognitive ability suitable for the role also improves the potential for effective training outcomes.Rather than limiting technology-oriented training only to employees who have preexisting technical knowledge, creating pathways for employees with an interest and cognitive ability for the training broadens participation in technology-oriented reskilling training programs.
Designing or Choosing Technology-Oriented Training Programs
Enable opportunities for community building. Training provides an opportunity to network and meet counterparts at similar or different agencies.Increasing a participant's social support network can help employees learn new techniques and share not only technical 8 Reskilling the Workforce with Technology-Oriented Training knowledge, but also functional and contextual knowledge, with others who support the efforts of the government agency.
Provide reference resources during training that can be used post-training. Training pro­grams should provide accompanying course materials to trainees during training for refer­ence while performing technology exercises.Providing training materials during training offers visual cues and instructions for trainees to refer to while experimenting and practic­ing the skills.Training materials also provide a reference for trainees using technology post-training.
Incorporate feedback using learning assessments appropriate for the training need. Participants should use and apply the technical and functional knowledge taught during training in the context of their day-to-day tasks during training to develop contextual knowledge.Furthermore, when learning technical skills during training, trainees need to learn how to use the technology successfully as well as recover from errors to gain self-confidence with using the technology.Providing a range of feedback opportunities related to the trainee's development of technical, functional, and contextual knowledge allows trainees to activate recall and reflect on their learning.
Providing Agency Support for Employees Post-training
Ensure technology availability for those attending training. The technology taught during training should be available for employees to immediately use and apply upon their return to achieve more benefits from attending training.Sending employees to training too far in advance of when the technology will be made available or when the trainee can apply the skills, can limit the value of training programs.Managers should consider the timing of reskilling efforts to ensure the training coincides with the acquisition of new technology within the organization.
Offer the needed time to apply insights from training. It takes time after learning a new technology at training to adapt the lessons learned from training to the day-to-day work within the organization.The agency should ensure there is adequate time for employees to apply skills learned from training in their current or new roles within the organization.It is unrealistic for managers to expect to see the benefits of training in a short amount of time.In fact, productivity will likely decrease while employees endeavor to transfer train­ing to their new environment.After transferring training knowledge, organizations will reap the benefits of reskilling employees.
Protect against skill decay with designated time for skill refreshers. When employees are unable to practice or apply their knowledge from training in the work environment, skills begin to decay.Additionally, technical skills tend to lose relevance quickly and need to be updated continuously.As such, agencies should have a plan to provide employees with skill refreshers and enhancers on a regular basis for each of the type of knowledge gained during training: technical, functional, and contextual. These refreshers will reduce skill decay, encourage the transfer of training and protect the agency and employee training investment.
Couple training with related experience requirements. Technology-oriented reskilling training is not sufficient for workers to transition into new roles post-training. Certain roles may require applicants to demonstrate both skills and experience. Leaders may need to consider altering the experience requirements for positions.
As agencies engage in digital transformations, the workforce must also transform by reskilling to maintain and effectively use new technology. We hope that the cases studies, insights, and recommendations outlined in this report will help government agencies succeed in developing and reskilling the workforce of the future.