Submitted by

cmasingo

on Fri, 12/22/2017 - 14:41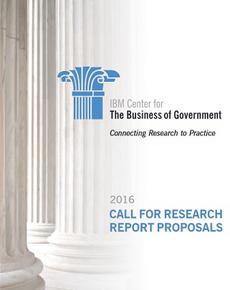 The Center for The Business of Government continues to support research by recognized thought leaders on key public management issues facing government executives today.
The Center for The Business of Government continues to support reports by leading thinkers on key issues affecting government today.  We are pleased to announce our latest round of awards for new reports on key public sector challenges, which respond to priorities identified in the Center's research agenda. Our content is intended to stimulate and accelerate the production of practical research that benefits public sector leaders and managers.
We expect the following reports to be published starting in early 2017.  Short summaries of each report follow:
Implementing Digital Services Teams Across the U.S. Federal Government by Dr. Ines Mergel, University of Konstanz, Germany
In 2014, the White House created the U.S. Digital Service team and the General Services Administration's 18F group. Both groups are using agile software development processes to design and implement high-profile software projects. The results of this report include lessons learned during the scaling up efforts of digital service teams across the departments of the U.S. federal government. These will focus on managerial design aspects, organizational challenges, motivations of digital swat teams and their department-level counterparts, as well as first outcomes in the form of digital service transformations in each department. This research report aims to support the presidential transition team's efforts by outlining the current efforts of scaling-up digital service teams and their lessons learned, as well as observable outcomes of digital service teams across the U.S. federal government.
Transforming Military Hospital Operations to Improve Performance by John Whitley, Institute for Defense Analyses (IDA)
The US Department of Defense operates over 50 inpatient hospitals and 300 clinics. Although these facilities cost significantly more than civilian facilities, past reforms have not been able to narrow this difference. Congress is currently considering broader reforms that have the potential to make a real difference. These reforms include bringing in private sector hospital management expertise, consolidating bureaucratic oversight, and realigning funding to pay facilities for outputs instead of inputs. This report examines the current challenges with military hospitals, the limitations of past reforms, and the potential improvements available from the reforms Congress is considering.
Organizing the U.S. Government Response to the West African Ebola Outbreak: Improving Public Management by Jennifer Widner, Pallavi Nuka, and Tristan Dreisbach, Princeton University
The 2014 West African Ebola Outbreak generated several public management challenges, from building new supply chains and supporting the duty of care owed responders, to creating contact tracing and information management systems. The proposed case study focuses on mobilization and coordination of the U.S. public health service, the CDC, and the Disaster Assistance Response Team (DART) to contain the spread of the disease in West Africa. This interview-based case study, designed to foster learning and innovation, aims to foster improvement in response to infectious disease outbreaks, preserve a historical memory of a complex intervention, and help teach a rising generation of public servants who are currently enrolled in management or public health programs.
Emerging and Leading Practices for Integrating Innovations into Local Governments by David Swindell, Arizona State University
Most of today's most innovative developments in organizational processes and service delivery arrangements are emerging from local governments. These laboratories are generating new solutions to basic government and governance challenges in their communities. Using survey data from a sample of over 4,000 city and county managers, this research will explore innovative approaches emerging in local governments to address new challenges in American cities, such as peer-2-peer platforms and autonomous vehicles. The report will identify target communities for in-depth interviews with leading practitioners in order to develop three to five case studies that illustrate successful innovations tied to these emerging issues. Finally, the report will provide a set of recommendations and a road map for those local officials to adopt and implement these new approaches in their communities.          
USPS-Fedex Alliance: A Retrospective by Oded Shenkar, The Ohio State University
The research will revisit the strategic alliance established between the US Postal Service and Fedex some fifteen years ago. It will assess its outcome for both organizations, but in particular its impact on USPS in terms of organizational culture, efficiencies, and the like. It will also evaluate whether the alliance is a model that should be extended to other government agencies.