Submitted by

rthomas

on Fri, 12/22/2017 - 14:46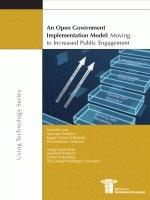 Tuesday, January 25, 2011
"We will work together to ensure the public trust and establish a system of transparency, public participation, and collaboration. Openness will strengthen our democracy and promote efficiency and effectiveness in government." President Obama
On his first full day in office, January 21, 2009, President Obama issued a call for increased openness in government. Subsequently, on December 8, 2009, the White House issued the federal government's Open Government Directive (OGD) that emphasized three principles of open government:
Transparency
Participation
Collaboration
The Open Government Directive called upon each federal agency to formulate a plan for how it intended to increase openness and public engagement in its programs and operations. The release of a new IBM Center report, An Open Government Implementation Model: Moving to Increased Public  Engagement, by Professor Gwanhoo Lee and Young Hoon Kwak, comes on the heels of the first anniversary of the release of the Open Governmentt Directive.
Professors Lee and Kwak present a road map — the Open Government Implementation Model — that agencies can follow in moving toward accomplishing the objectives of the Directive.  The model recommends that agencies should advance their open government initiatives in stages, moving from one stage to another as they mature their adoption of open government.
Stages of the Open Government Implementation Model      
Stage One: Increasing Data Transparency
Stage Two: Improving Open Participation
Stage Three: Enhancing Open Collaboration
Stage Four: Realizing Ubiquitous Engagement
To illustrate their path toward implementing the goals of the Directive, Professors L
ee and Kwak examine five cases of open government initiatives within the Department of Health and Human Services (HHS), including initiatives by the Centers for Medicare and Medicaid Services and the Food and Drug Administration. The case studies illustrate how federal agencies are making progress in moving to a more open and transparent government. The model can clearly be adapted by other agencies.
We trust that this report, as well as previous IBM Center reports on social media and citizen engagement, will serve as useful and informative guides to government agencies as each responds to the challenges set forth in the Open Government Directive.
Please stay turn both Professor Lee and Kwak will join us on The Business of Government Hour in February...more details to follow.