Submitted by

rthomas

on Thu, 01/25/2018 - 10:14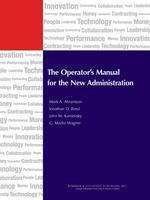 Wednesday, January 30, 2013
The IBM Center is releasing an update to its 2009 The Operator's Manual for the New Administration for the use of new executives in the federal government. This updated chapter on leadership reflects advances based on extensive practical research
MEMORANDUM FOR THE HEADS OF EXECUTIVE DEPARTMENTS AND AGENCIES
SUBJECT: Leadership
Your leadership can make all the difference in determining whether you accomplish your goals and objectives. Effective leaders first gain an understanding of the context of their organization. Understanding the context of your organization includes knowing your mission, stakeholders, constraints, and the political environment facing you.
This Memo summarizes leadership lessons that we have learned from observing effective agency heads.
Act with Strategic Intent. For today's government leaders, it is imperative to work toward executing their mission with strategic intent. Strategic intent focuses on an organization's vision, goals, and objectives necessary to achieve its mission; it is marked by clarity of focus, a desired end, a flexibility of means, with criteria used to chart progress. It represents a need to think ahead and plan backward from an envisioned future, making it clearer how to take effective action in the present. Whether responding in the aftermath of Hurricane Katrina, leading the U.S. Coast Guard, or most recently coordinating the response to the Gulf oil spill, Admiral Thad Allen (USCG Retired) offers clear insights on the importance of strategic intent in executing mission. His approach also provides a powerful example for government leaders who encounter many non-routine yet mission-critical situations. "I would call it the organizational genius of the Coast Guard—the fact that without having to have a bunch of different agencies do different jobs, we have one agency that can shift its focus and its people and its capability and its platforms to do a specific job one day, and then a different job the next day," explains Admiral Allen. With organizational adaptability, coupled with a strong emphasis on strategic intent, Allen counsels leaders to transcend what he calls the "tyranny of the present," which requires looking beyond the next "annual budget cycle … to lift your head up, look over the horizon, and see where you're going." Through his career, this vision has colored Allen's perspective and informed his leadership. "I've stressed [to] senior leaders to think more strategically … from source to strategy … and to act with stra­tegic intent."
Use different leadership styles. There is no single leadership style on which to rely. You should adjust your own leadership style to the specific situation and environment confronting your organization. There might be times in which the traditional "command and control" leadership style is appropriate, but there are likely to be other times when you will need to practice a more collaborative leadership style. You might also find that your style will need to change as the organization evolves and your external environment changes due to either an anticipated or unanticipated chain of events.
Define and focus on your goals and objectives. In other words, you must define and then tell people what you want to get accomplished. A key to successfully accomplishing your goals and objectives will be clearly communicating them to a variety of audiences, including both political appointees and civil servants in your own organization. Another key will be your ability to focus on a defined set of goals and to avoid being distracted by secondary issues or activities.
Articulate a strategy for moving forward. Everybody will be looking to you for how to act on the organization's mission and vision. Articulating a forward-looking strategy that bridges the gap between policy and action will help ensure that the organization is doing what you want it to be doing. A clear strategy provides a map of how you and your leadership team get to where you want to go, given constraints within your operating environment and the resources available.
Engage employees. Employees have much to offer the organization via their ideas, including innovations, to improve the performance of the agency's programs and activities. Former Internal Revenue Service Commissioner Charles Rossotti suggests that you should develop a policy of "engaging people and then deciding" rather than the traditional practice of "decide, then explain." You will be able to learn much about your agency by going out and listening and engaging with people, especially those on the front lines.
Put customers first. Your agency serves the public. Get out and talk with your agency's customers. Ensure all customers have a voice and that every voice is heard. You will learn surprising things your employees and stakeholders may not tell you. Encourage your senior managers to do the same. Recent technologies allow new ways to constructively engage with your customers. Use them.
Involve key stakeholders. In a similar approach to engaging employees, you must launch an active outreach program to meet with the stakeholders of your organization—interest groups, congressional staff members, and partners (such as nonprofit and private sector companies) with whom your organization collaborates. Include both your advocates and adversaries. The more time spent on outreach will make your job easier in both the long and short term. While you will be tempted to devote more time to players outside of the executive branch of government, don't underestimate the importance of building sound working relationships with key appointees in other agencies both inside and outside of your own department.
Seize the moment. The simple fact about serving as a political appointee is that you do not know from the outset how long you will have the opportunity to serve. You might be asked to serve in another position as the administration matures or you might leave government. Thus, an essential lesson from leaders is that you must "seize the moment" and take full advantage of the environment now surrounding your organization. You must take advantage of the moment and move as quickly as you can to implement your goals and objectives.
Communicate, communicate, and communicate. Leaders emphasize the importance of placing a high priority on communication from day one of their tenure. A major insight from the IBM Center profiles and interviews with leaders is that while all felt they did try to communicate and thought they were reaching their intended audience, nearly all felt in retrospect that they needed to communicate more both in quantity and frequency. The lesson learned is that one announcement or meeting is unlikely to get the job done.
As in advertising, repetition is crucial to getting your message out. Leaders find that many employees in their agencies will likely become uncomfortable because change creates uncertainty regarding their future. You must be sensitive to this phenomenon and repeatedly meet with employees (as well as stakeholders) to answer all of their questions and attempt to alleviate concerns to the extent possible.
Create alignment. A key element of leadership is "putting it all together." The accomplishment of your goals and objectives will depend on your ability to align the people in your organization around effective business practices, technology, and organizational structure. Based on your analysis of how well your organization is aligned structurally, you may conclude that reorganization is necessary. We caution you, however, to reorganize as a last resort. Reorganizations are time-consuming, frustrating, and likely to meet with resistance from both inside and outside of your organization.
Expect the unexpected. While you will have your plan in place for the coming years, it is likely that an unexpected event will occur which will require that you adapt and adjust your game plan to new realities and situations. You will need to be resilient in your capacity to overcome obstacles and unexpected problems as they arise.
"Stick with it." None of the above will be easy. You are likely to face opposition that may disagree with your goals and objectives. While you may not know exactly how long you will serve, you must plan for the long term and persevere in your quest for the transformation of your organization. In describing former Under Secretary Ken Kizer's experience in transforming the Veterans Health Administration, Boston University's Gary Young writes, "No transformation will be perfect, and those who oppose the changes will seek to exploit flaws or limitations to derail the effort. Leaders of transformation need to be responsive to legitimate criticisms, but they also must avoid being swallowed up in technical details." Transformation is clearly not for the faint-hearted, and in the modern networked age, it is likely to be far more consuming than any strategic challenge that has come before.
To assist government leaders in better understanding the characteristics of successful transformations, Robert Reisner, an expert in government transformation interviewed a select group of federal executives who have recently undertaken major transformation initiatives in their organizations. Based on these interviews, "government executives should consider when they undertake any transformation initiative: develop a compelling transformation game plan; align the transformation game plan with your mission; center your game plan with a reliable innovation process; transform strategically; and design implementation to sustain transformation.   
Relevant Reports from the IBM Center for The Business of Government Since 2008
Forging Governmental Change: Lessons from Transformations Led by Robert Gates of DOD and Francis Collins of NIH by W. Henry Lambright
This report continues the IBM Center's long interest in leadership and transformation. In Robert Gates, former secretary of defense, and Francis Collins, director of the National Institutes of Health, Professor Lambright has identified two outstanding government leaders who both led transformation initiatives in their organizations.
The Guide: Helping the New Administration Succeed in Washington by Mark A. Abramson, Jonathan D. Breul, John M. Kamensky, G. Martin Wagner
Our Guide is a short and timely primer on how to manage in the federal government. This 24-page document includes six 'to dos' for government executives, a discussion on stakeholder groups, and eight essential tools for achieving your goals.
A Leader's Guide to Transformation by Robert A. F. Reisner
To assist government leaders in better understanding the characteristics of successful transformations, the IBM Center asked Robert Reisner, an expert in government transformation, to interview a select group of federal executives who have recently undertaken major transformation initiatives in their organizations.
We believe government leaders and managers should incorporate these seven imperatives into their management practices to execute their organization's mission successfully.
Conversations with Leaders: A Video Overview by Michael J. Keegan
This video provides a sampling of the hundreds of government executives we have interviewed over the years. Enjoy insights from these government leaders...
Transforming Information Technology at the Department of Veterans Affairs by Jonathan Walters
This report chronicles the Department of Veterans Affairs' (VA) efforts to realign and centralize its information technology activities. Describing it as an "ambitious, audacious and arduous crusade," Walters makes it very clear that this is still very much a work in progress. There are significant hurdles ahead and certain significant adjustments will no doubt need to be made for this ambitious undertaking to be ultimately implemented and sustained by the VA. Yet at the same time, the effort offers the VA's new leadership a clear and established roadmap for moving the effort forward, because a lot of hard work has been done for them.  In addition to his captivating description of the VA experience, Walters also identifies ten lessons learned - based on the experience of change management at the VA - which are clearly applicable to any organization confronting a change management initiative.
Launching a New Mission: Michael Griffin and NASA's Return to the Moon  by W. Henry Lambright
President George W. Bush told NASA to return to the moon and prepare for manned exploration of Mars. The man he put in charge, Michael Griffin, was a certified rocket scientist with a passion for manned space exploration. In the four years he served as NASA Administrator, Griffin was continually forced to make controversial financial tradeoffs that brought him into conflict with constituencies who disagreed with him. He did, however, make significant progress in redirecting NASA toward the new Moon-Mars program. This report provides insights into the challenge of managing large, controversial programs in government. It also offers lessons for both the next NASA Administrator as well as other public executives who are expected to lead in challenging political and fiscal environments.
The National Security Council: Recommendations for the New President by D. Robert Worley
Dr. Worley's report examines 60 years of history of how presidents have used the National Security Council organization and process. From the administration of Harry Truman to George W. Bush, the report analyses which approaches succeeded and which failed. It then offers a series of recommendations for improving the effectiveness of the national security system.
Reflections on 21st Century Government Management by Donald F. Kettl Steven Kelman
Our goal with this report is straightforward: to begin thinking about the future of government and the trends and new ideas in government management that a new president should consider as he or she takes office in 2009. The intent of this project is...
Our goal with this report is straightforward: to begin thinking about the future of government and the trends and new ideas in government management that a new president should consider as he or she takes office in 2009. The intent of this project is to stimulate new ideas among several key audiences. We wish to spark the imagination of government leaders to look beyond their day-to-day "urgencies" and reflect upon the important challenges the nation will face tomorrow. We also seek to challenge the academic and nonprofit communities to begin looking ahead to future approaches in the management of government as they continue to analyze past successes and failures.
We would like your thoughts on these two essays by Professors Kettl and Kelman. Did they get it right? Did they get it wrong? Did they leave out an important idea? What are your thoughts on the future of government?
A Conversation with Francis Collins, MD, PhD Director, National Institutes of Health
A Conversation with Danny Werfel, Controller Office of Federal Financial Management, Office of Management and Budget
A Conversation with Dr. Peter L. Levin, Senior Advisor to the Secretary and Chief Technology Officer, U.S. Department of Veterans Affairs
A Conversation with Dr. Kathleen Merrigan, Deputy Secretary, U.S. Department of Agriculture
A Conversation with Gene Dodaro, Comptroller General, U.S. Government Accountability Office
A Conversation with Michael J. Astrue Commissioner, U.S. Social Security Administration
A Conversation with Admiral Robert Papp Commandant, United States Coast Guard
A Conversation with Letitia Long Director, National Geospatial-Intelligence Agency
A Conversation with Erin Conaton Undersecretary of the U.S. Air Force
A Conversation with Craig Fugate, Administrator, Federal Emergency Management Agency, U.S. Department of Homeland Security
Forging a New Paradigm of Engagement Through Innovation: Insights from Alec Ross
A Conversation with Anthony Fauci, M.D: Director, National Institute of Allergy and Infectious Diseases
A Conversation with Admiral Thad Allen: Commandant, United States Coast Guard
Leading NASA Three Administrators in Retrospect By W. Henry Lambright
J. D. Sicilia: Promoting Quality Improvement Methods for a More Efficient Military Director, Lean Six Sigma Program Office, U.S. Department of Defense By Michael J. Keegan
A Conversation with General James Cartwright: Vice Chairman of the Joint Chiefs of Staff, U.S. Marines
Ambassador Patrick F. Kennedy: Managing Transformational Diplomacy Under Secretary of State for Management, U.S. Department of State By Michael J. Keegan
Dr. Raymond L. Orbach: Advancing Scientific Discovery Through Transformational Science, Under Secretary for Science and Director of the Office of Science, U.S. Department of Energy By Michael J. Keegan
The Rise and Fall of the Space Shuttle: Leadership Lessons By W. Henry Lambrigh
Getting Big Things Done in Government
Read about our efforts to update the Operator's Manual.
Read our other Operator's Manual Blog, an update of Chapter Two: Performance.
Read our update of Chapter Four: Money.
Read our update of Chapter Five: Contracting.
Read our update of Chapter Six: Technology.
Read our update of Chapter Seven: Innovation.
Read our update of Chapter Eight: Collaboration.
Read the original chapters of the Operator's Manual.
Read materials related to Governing in the Next Four Years.