Submitted by

rgordon

on Wed, 10/28/2020 - 11:30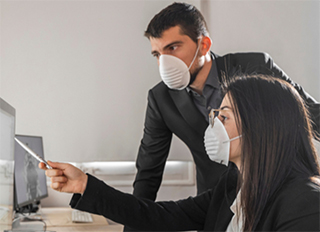 Wednesday, October 28, 2020
What began for almost all of us as a month-long work from home event looks like it will last a year or longer.
Guest Blogger:  Mark Bohannon, Vice President, Government Affairs, Red Hat
When we return to the office, it will be a completely different experience, with most employees working staggered schedules, teams divided into groups and ever more reliance on technology to keep employees and customers connected and engaged.
In recent weeks we have seen announcements from major technology companies, financial firms and others that support the forever-changed nature of the way we work. Understanding that, it's time to start talking about the next steps we need to take to ensure that our IT infrastructure and tools can continue to support the remote workers, while providing state-of-the-art, timely customer service.
The U.S. Department of Defense, prior to COVID probably one of the agencies in all of government most reluctant to support a remote workforce, has been without question one of the leaders in adapting to our "new normal." DOD, through the adoption of work from home tools and improvements to its overall IT infrastructure, has moved nearly one million employees from a traditional office environment to a work-from-home posture. Despite its quick success, DOD is also a perfect example of the work that remains.
The Defense Information Systems Agency (DISA) reports that to support its newly remote workforce, they increased network capacity (by nearly 1,000%), dramatically increased robust VPN access, enhanced overall storage capacity, leveraging cloud and other technologies, and has begun to change the mindsets of its employees and leadership to support these new requirements. In order to support a remote workforce now and for the long-haul, federal, state and local governments alike need to commit to making an investment in the necessary infrastructure. This investment must go beyond issuing a laptop to employees and hoping they can remain productive in a work-from-home environment.
In August, Rep. James Langevin (D-RI), along with other members of the Cyberspace Solarium Commission introduced the State and Local IT Modernization and Cybersecurity Act, which addresses a recommendation from the commission's pandemic white paper that calls for helping state and local governments migrate legacy IT infrastructure to modern, resilient platforms, including cloud-based services. The legislation would establish multiple grant-based programs through which state and local governments could begin to make down payments on the IT upgrades needed to keep our IT resilient and trustworthy and enable these governmental entities to provide critical services at a critical time. If enacted, this would go a long way toward helping states and local governments upgrade their IT.
Likewise, the federal government needs a long-term vision for supporting remote workers and ensuring that the wheels of government continue to turn regardless of where an employee or a citizen seeking service may reside. The COVID pandemic has reinforced the need for IT modernization and put front and center the benefits of hybrid cloud-based infrastructure and applications, which address security, continuity of operations, flexibility and portability. Federal policymakers must act to support these needs. Here's what we propose:
Support the deployment of commercial technology across government, while requiring every federal executive agency to develop a 3-year "post-COVID" IT investment roadmap that recognizes the realities of new work requirements, including plans to secure networks in a work-from-home-first posture. As a key step in developing this road map, OMB should initiate and maintain inventory of "obsolete or obsolete" IT systems that fit the MGT Act definition. Currently, such assessments are not meaningfully focused on the real challenge at hand.
Provide full funding to the Technology Modernization Fund and agencies to support IT modernization needs, consistent with the needs identified in the IT investment roadmap.
Double down on the federal government's investment in hybrid cloud, focused on emerging commercial technology approaches (e.g. containers, microservices) that provide the ability for data and applications to be migrated to a cloud provider in a way that allows them to be migrated again in the future, when necessary.
With these actions, the U.S. government can target its IT investments effectively to support the needs of remote workers. It will also enable IT modernization that promotes long-term transformation to cloud and related technologies and continuity of critical mission support activities regardless of location or circumstance.
** This article and graphic were first published on Federal Computer Week's website.