Submitted by

MKeegan

on Wed, 05/19/2021 - 22:28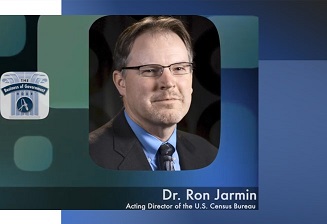 Interview with Dr. Ron Jarmin, Acting Director, U.S. Census Bureau
The U.S. Census Bureau is the federal government's largest statistical agency that provides current facts and figures about America's people, places, and economy. The first census took place in 1790. As required by the U.S. Constitution, a census has been taken every 10 years thereafter. In 1840, the Census Act authorized the establishment of a centralized Census Office. In 1902, the Census Office became a permanent organization within the new Department of Interior and Labor.
"Over the course of the 20th century, the Census Bureau found its niche within the federal statistical system and the larger government. During the Great Depression, the Census Bureau was a significant force in developing survey methodology that allowed us to measure the unemployment rate and other statistical activities in support of the federal government as it coped with both the Great Depression and then the Second World War," explains Dr. Ron Jarmin, Acting Director, U.S. Census Bureau. Dr. Jarmin joined me on The Business of Government Hour to explore the mission and important work of the bureau. The following highlights insights from our discussion.
Overview of the U.S. Census Bureau. The Census Bureau is at approximately 10,000 employees with a budget a bit north of a billion-dollars. We have a cyclical component called the Decennial Census. The last few years of every decade we scale up considerably to count everybody living in the country. This adds some organizational complexity.  There is a component responsible for planning and executing of the Decennial Census. There is also the statistical agency part of the bureau that is responsible for several ongoing statistical activities, including the American Community Survey (ACS) that we do in partnership with the Bureau of Labor Statistics. We collect the monthly Current Population Survey from which the unemployment rate is derived. We also collect most of the data that goes into computing gross domestic product. There is a rich collection of survey-based activities. We also use other statistical activities that use administrative and other types of data to paint a rich picture of the people and economy of our country.
Leading the Census Bureau. As deputy director and chief operating officer at Census, I'm the senior career official in charge of the bureau's operations. I work closely with my colleagues at the Commerce Department, and especially, across the federal statistical enterprise in support of the overall measurement objectives of the federal statistical system. In the absence of a Census director, the deputy director becomes acting director. I am doing two jobs until a new director is in place, which is both very fulfilling and challenging.
Challenges. The top challenge for the Census Bureau and for federal statistical agencies generally is how to modernize, stay relevant, and serve our customers for the 21st Century. The users of our data have grown in number and diversity. Along with that change is the complexity of the data they need. Our users want and need more timely data, more granular data, and more complex data.
We used to serve primarily the federal government, but now we serve, the business community, nonprofits, small local governments, and the larger research community. Finding new ways for us to stay abreast of their needs I think is first and foremost our biggest challenge. From that challenge, how do we attract and maintain an expert workforce. How do we get, recruit, and train the right people with the right skills to meet our important missions? How do we get the right IT infrastructure? How do we get resources to do all this? It all flows from trying to serve the data users out there that are constantly asking us for more, richer information.
Surprises. I have worked my way through the bureau in various roles working on a host of different missions within Census. Now as its deputy director (and sometimes acting director), I am pleasantly amazed at just how incredibly diverse our measurement mission is and how clever and resourceful our staff can be to meet that mission. This pandemic has thrown us all a curve ball. We were able not only to adjust to working from home, remapping our ongoing operations such as the 2020 Census, but also to develop whole new surveys that addressed how the pandemic was impacting households and small businesses in a way that just was not being done. As a result, we were able to provide information to the public and policymakers. The skills, passion, and tenacity of our staff is just amazing.  It is what really energizes me and makes me want to get up and get to work every day.
Priorities. A key strategic priority for us right now is modernization. We have a good core of measurement activities that are serving the public well. When you look at large survey platforms like the American Community Survey, Current Population Survey, or the Economic Census they are showing signs of strain. It is  harder to get the public, whether it be businesses or households, to participate in surveys. The response rates are going down and it is getting more expensive to do surveys. These conditions impact the quality of the data collected.
Another important priority is finding  ways to get new sources of data to do our core measurement activities. The world is now rife with data that is relevant to  economic and social measurement objectives. Big data is growing. Administrative data is plentiful. Many programs at Census have taken advantage of government administrative data over the last twenty years or so. We are now starting to peel back the onion -- looking at some of the rich information that sits inside business enterprises and other organizations using that information as source data for our statistics. This enables us to start thinking about our surveys as a more strategic tool to fill in missing gaps or provide scientific credibility to these other data sources.
At the end of the day, it's all about producing better, higher quality data for our users so they can use it in their research and decision-making.
We engaged in three multi-day workshops. This effort involved staff from across the agency at all levels of management, all different areas of specialty (statisticians, demographers. economists, budget analysts, HR specialists, and those who go door to door to conduct the census). All came together to identify ways to transform the Census Bureau from survey-centered 20th century statistical organization to a multi-source information provider that produces, higher valued, more granular, and more timely statistics for the 21st century. We have many exciting efforts happening. We are engaging the whole staff to pursue these things. We are all energized and excited about where we are going and how we are getting there. This is a team effort.
Changing and Innovating. Census has shifted the Business Surveys to complete electronic reporting. No more paper survey forms. All collection is done on-line. We are likely transitioning more automated forms of accessing information from businesses as we go forward. Regarding the Annual Business Survey, we took what was essentially part of the Economic Census, done every five years to survey business owners and a couple of other business surveys like the R&D survey and merged those into an annual program where we take advantage of the fact that we could rotate questions on and off and ask things that were timelier. There is more to be done to improve economic measurement, getting access to business data, working with NPD Group and Nielsen to get more timely data on large retailers in a direct feed at a more granular level of detail, so we can improve our retail trade statistics. We are working on enhancing data access while also refining the methodology for producing statistical products.
Back in the day, we collected the data and basically did one set of tabulations. We put the tabulations in books. To access this data, you had to go to a federal depository library or get reels of magnetic tape. The number of data users were small and usually somewhat sophisticated. Today, our users have expanded encompassing sophisticated and novice users with diverse data needs from an array of sectors, such as state and local governments, and small business owners. To meet this increasing demand for data, we put as much of our data in API for the expert users to be able to download and put into their processing streams. We also put up a new interface, data.census.gov, that seeks to be more intuitive about how people search for data they need – a sort of Google for finding data.
We are constantly listening to our data users and trying to improve the tool, finding ways to provide information the way people need it. We are also creating specialized platforms for certain users. We have an innovative tool called the Small Business Builder. It is for small business owners providing them the capability to drill down by location and by sector to analyze competition and customer data. It is a rich tool and we have received very positive feedback about it. We continue to improve on it. Building tools specialized for a particular user community is a good way to help meet the needs of our data users.
We are doing very interesting things with experimental data. Post-Secondary Employment Outcomes (PSEO) are experimental tabulations developed by researchers. PSEO data provide earnings and employment outcomes for college and university graduates by degree level, degree major, and post-secondary institution. These statistics are generated by matching university transcript data with a national database of jobs, using state-of-the-art confidentiality protection mechanisms to protect the underlying data. The PSEO are made possible through data sharing partnerships between universities, university systems, State Departments of Education, State Labor Market Information offices, and the U.S. Census Bureau. PSEO data are available for post-secondary institutions whose transcript data has been made available to the Census Bureau through a data-sharing agreement. We will continue to build similiar tools dedicated to answering the questions and needs of a particular data user segment.
Data privacy. With the 2020 Decennial Census, we deployed a new, more modern privacy protection approach called differential privacy to maintain the balance between privacy and accuracy. We are taking  seriously our statutory responsibility to protect the privacy of Census respondents and make sure that the data we release does not violate confidentiality.
We have other products that use the same methods. The Post-Secondary Employment Outcomes data employs these formal privacy methods as well. In fact, there is no way that we could produce data by campus, by degree field, by year without relying on these types of modern disclosure avoidance techniques.
Privacy protection will continue to be one of the key challenges for statistical organizations going forward. We are going to have to work with all stakeholders be they users of the data who want the most accurate data possible or privacy advocates who want to ensure that the products we produce follow required privacy protections.
Leadership and public service. Leaders need to have a mission-focused vision. They need to communicate effectively that vision to their teams, but they also must be able to listen to what their teams have to say as well. You need to meet people where they are and find a way to get folks involved in a broader direction and mission.
There are many ways one can engage in public service. My advice for those considering a career in public service is make sure you connect it with your passion.  If you like being in the woods, then consider a job with the U.S Forest Service.  If you want to be a statistician, then come work at the U.S. Census Bureau. The key is to do what you find interesting. You can always find a rewarding career in the public sector.