Submitted by

cmasingo

on Wed, 12/20/2017 - 13:55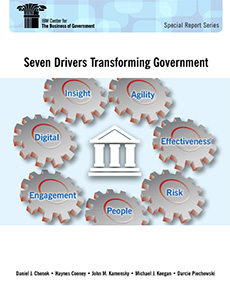 Wednesday, November 1, 2017
Key trends will shape the course of government in the next several years – the Center's new report explores these issues, which will inform our research to help improve government.
In 2018, the IBM Center for The Business of Government marks its twentieth year of connecting research to practice in helping to improve government.  The IBM Center con­tinues to execute on its ultimate mission: to assist public sector executives and manag­ers in addressing real world problems with practical ideas and original thinking to improve government.
The Center supports leading researchers to identify trends, new ideas, and best prac­tices—crafting actionable approaches that support government decision-makers in addressing mission delivery and management challenges, through strategies and actions that promote efficiency and effectiveness.
Based on our recent research and perspectives shared by current and former govern­ment leaders, today we are releasing a new special report that identifies seven drivers for transforming government in the years to come:
Driver One: Insight – Using data, evidence and analytics to create insight that influences decision making, actions and results
Driver Two: Agility – Adopting new ways for government to operate, using agile principles and putting user experiences and program results at the forefront
Driver Three: Effectiveness – Applying enterprise approaches to achieve better outcomes, operational efficiency and a leaner government
Driver Four: Risk – Mitigating risk, managing cybersecurity and building resiliency to meet the mission of government
Driver Five: People – Cultivating people; reforming processes for hiring, developing, and retaining workers; and leveraging data and technologies to build the workforce of the future
Driver Six: Engagement – Fostering a citizen-driven government through real-time, interactive feedback to engage, co-create, and co-produce services and programs
Driver Seven: Digital – Optimizing new technology and infrastructure models, focusing on the user experience and incentivizing innovators to modernize how government does business
These seven drivers draw on significant insights shared from a research roundtable in Spring 2017 that brought together government, academic, and nonprofit leaders to identify public sector trends that would be key drivers for transforming government in coming years.
Governments in the U.S. and across the world will continue to focus on controlling costs while improving their operational performance. A key challenge facing govern­ment executives will be to transform the people, processes, and cultures that comprise their organizations to drive results in an environment of constrained resources. Driving meaningful and sustained change in government requires innovative, effective and effi­cient decision making and implementation for positive, significant and lasting impacts. To achieve this objective, this special report provides a resource from which govern­ment can draw practical, actionable recommendations on how best to address such issues. The IBM Center will continue to help communicate what leading experts know about effective practices and lessons learned to government leaders and stakeholders.