Strengthening Government's Emergency Preparedness and Response Capacity in Addressing "Future Shocks"
Submitted by

rgordon

on Wed, 12/14/2022 - 09:24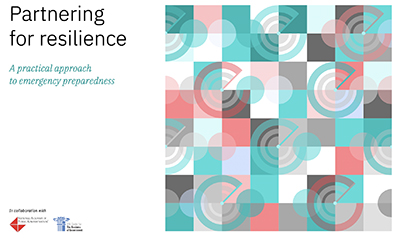 Wednesday, December 14, 2022
A new report draws on insights from experts to help government leaders and stakeholders build on lessons captured from the pandemic and other recent crisis events.
Government leaders increasingly find that "unexpected events" are now neither rare nor unexpected. Indeed, they are shocks—more frequent and more destabilizing, and involving cybersecurity, climate, supply chain, human capital, and other domains. To help government leaders identify and strengthen core capabilities critical to building resilience across these multiple domains, our Center has worked with the IBM Institute for Business Value, and the National Academy of Public Administration to commence a series of "Future Shocks" roundtables and with global leaders, which result in actionable insights and recommendations.
Indeed, the pandemic exposed weak points in preparation and response across many areas from health systems to supply chain and infrastructure, which forced governments to rapidly innovate. There is a potential for more shocks like these to continue and even increase in frequency and impact in the future. Governments will need to be proactive in preparing for and building resilience to future shocks.
A new report, Partnering for Resilience: An Actionable Approach to Emergency Preparedness, provides actionable recommendations that draw on perspectives from government leaders and stakeholders about how the pandemic exposed weak points in preparation and response across many areas from health systems to supply chain and infrastructure. These experts shared learnings and case studies around emergency response, and the author adapts their key points for this report that enables governments and key stakeholders to prepare for the inevitable impact of future shocks to communities and societies.
Emergency management is complex and nuanced, with contributions from a diverse set of stakeholders including the public, business community, civil society, and all levels of government. Key topics and recommendations for governments in preparing to address future shocks that the roundtable and report addressed include risk management and capability assessment; pre-crisis planning and coordination, testing, situational awareness and communication, transparency and trust, inclusion and equity, and learning and accountability.
Looking across these topics, the report identifies six steps for governments to take in improving emergency preparedness and response, each with key takeaways and recommendations:
Strengthen the emergency response and preparedness network
Build local capacity
Put community engagement and meeting diverse needs at the center of preparedness efforts
Dedicate sufficient and flexible resources
Establish a data strategy well before disaster strikes
Establish workforce strategies to meet current, surge, and future needs
Renewed investment in national and subnational resilience will help governments to cope with the increased frequency of regional and global rapid-onset events. Emergency preparedness and response can—and must—be improved to withstand threats now and in the future.